Get Your Blood Pumping in Kamloops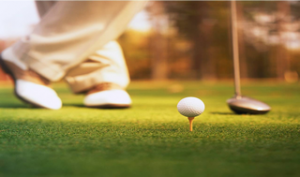 Ok sure Kamloops has lots of "refined" and "relaxing" things to do while you visit. There's the great music festivals,  the symphony, taking in a play, fly-fishing, tubing down the river, sunning on the beaches and even incredible golf courses. Although if you golf with me I wouldn't call that relaxing (fore……).  These are all wonderful things indeed,  but what if you feel the need for a little excitement or adrenaline? Well of course you could visit one of the local ranches and try and ride an unbroken stallion (highly unlikely) but Kamloops offers several more practical options.
Travelling with the family but still want a something that will make your kids eyes open as wide as a loonie? The BC Wildlife Park might be the perfect solution. You'll see bald eagles,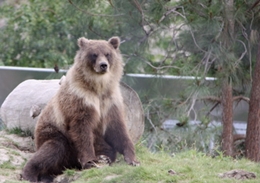 grizzly bears, cougars, camels, bison, elk and moose all in one place.  The BC Wildlife Park in Kamloops is home to all of these and so much more. A much better way to see these majestic animals (as opposed to getting up close and personal with them in the wild) but trust us, adults and kids alike will be in awe. Definitely a terrific attraction for the entire family.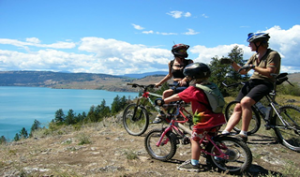 Want to step it up a notch? Grab your mountain bike and hit some of the best trails and parks anywhere. This town has even gone so far as to create a "bike ranch". The Kamloops Bike Ranch is the most technically advanced municipal mountain bike park in Canada. Then there's Harper Mountain and Kenna Cartwright Park just to name a few options. OK so you didn't get to ride that stallion, the mountain bike options are sure to provide enough jumps, gullies, downhill's and climbs that you're sure to see someone pull a *superman. Ride here and we know you'll be *stoked and you may even get into the *zone but watch out for the *tombstones or you might get *stacked and try to plant a *soil sample. The one neat thing about staying at the Accent Inn in Kamloops, it's really easy to perform a *mud-ectomy on both your body and your bike thanks to the bike love (bike friendly hotel) program. If you ask nicely they may even give you a cool bike lover sticker to show off to your friends. (I recommend going for the sticker rather than scars, much less painful).  So, plan to experience local in Kamloops BC and get your Blood Pumping in the rolling hills…
John Espley
Business Development Manager, Accent Inns
Terms from: The Dictionary of Mountain Bike Slang
Compiled by Doug Landauer ([email protected]) and Jim Frost ([email protected])
*        superman n. a rider who flies over the handlebars and doesn't hit the ground for a long time.
This may result in injury, but when it doesn't, it's really funny for everyone else.
*        stoked adj. euphoric feeling of enlightenment, caused by adrenaline rushing to the brain during a gonzo clean.
*        The Zone n. a state of mind experienced while riding. You don't think, you just do. A truly mystical experience that can't be fully explained, but when you get there you'll know it and strive to reach it again.
*        tombstone n. one of those damn little rocks protruding out of the trail which you don't notice because you are having a heart-attack climbing the hill.
*        stack n. crash. v. crash.
*        soil sample n. a face plant.
*        mud-ectomy v. 1) a shower after a ride on a muddy trail. 2) the act of becoming clean.