Zombie Apocalypse Proof Rooms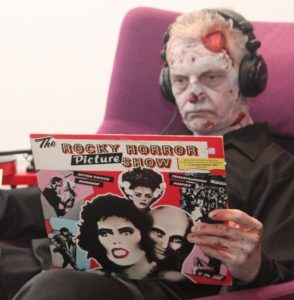 Many sites these days are offering advise on how to prepare for the Zombie apocalypse. I thought I'd take the time to share how an Accent Inn could be the perfect base for the impending horror movie disaster.  First thing, if you want understand how a Zombie acts, wake up a teenager at 7am on a Saturday morning and if you can, get them to head upstairs for breakfast. Take note of the slow staggering walk, the 80% closed eyes, the constant grumble and moan, the difficulty managing stairs and of course their carelessly shoveling scrambled eggs into their face with most falling to the plate or the floor (take note, your dogs are aware of this behavior and will be sitting right beside the teenager's chair).
Now let's look at what you might need when the actual Zombie apocalypse happens and you happen to be out of town, away from the fully stocked underground bunker that I'm sure your crazy neighbor built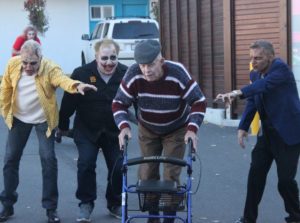 for just this occurrence. Always have a supply of food for at least a few days with you. As long as the power lasts, which should be for a few days anyway, Accent Inns has some great kitchenettes with stovetops and fridges. This way you can eat in the safety of your room. If you do need to leave your room for a supply trip, our properties don't have any hidden corridors or dark stairwells where you might get trapped. The free parking is also handy and open allowing you to see any "walkers" that might be headed your way. Along with that there are no underground gates which might keep your transportation locked in.
After running around the city avoiding "Z's" you're probably going to be tired, soar and covered in stuff that we just don't want to talk about. Heading back to the safety of your room you can relax in the full tub not only to clean off the yucky stuff but to relax those tired muscles. Of course your thinking what if the Zombies get into the room? Relax, with our strong metal doors and metal door frames nobody is getting into anywhere.  On top of that we have really great blackout drapes (not flimsy blinds like some places) that will keep your movements inside a secret. Most of our zombie apocalypse proof rooms come with either 2 queen beds or a couch that turns into a second bed allowing you to be the hero. If you feel so inclined as to save someone staying at a not so secure property.
One tip: if you find any nasty "humans" roaming outside your room, just open the drapes but keep the shears closed. Grab the in-room blow dryer and make sure you have some good back lighting. Casually stand by the shears holding the dryer and to the folks outside your shadow will look like your holding a really big gun and they'll move away for an easier target. Hint: for any close-up Zombie troubles the in-room iron can not only keep you looking sharp but makes a great weapon for head blows.
The only issue you may run into during the Zombie apocalypse might be paying your bill (in case our staff is indisposed). Luckily we get a pre-authorization on all credit cards so once order is restored in our cities (Victoria BC, Vancouver BC, Kelowna BC, Kamloops BC) we can easily process your payment making sure you come out of the disaster (because we all know a Zombie apocalypse can be beat) not only healthy but with a clear conscious.
Accent Inns  – the perfect place to wait out a Zombie Apocalypse.
For some and lighter Zombie flicks check out our sister hotel, Hotel Zed, and their Zombie Movies.
Zombie begins with Zed https://youtu.be/HzpwbrElHyA
Zombie Travel Tips https://youtu.be/g5mZRAtHI9E