Victoria BC Chamber Names Accent Inns Employer of the Year
For immediate release April 25, 2014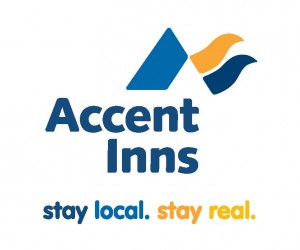 Victoria, BC, April 25, 2014 – Last night at the Greater Victoria Chamber of Commerce annual business awards gala, the Accent Inns hotel chain was named the employer of the year. The black tie event which took place at Victoria BC's Empress Hotel ballroom consisted of 13 different award categories and one lifetime achievement award being finalized and recipients named. Congratulations go to Bob Skene, the Chambers Lifetime Achievement award winner, a prestigious and not lightly handed out accolade which Accent Inns own founder, Terry Farmer was awarded in 2012.
The five person judging panel had the difficult challenge of casting their secret ballots for the Employer of the Year award between two very different yet key local employers; Accent Inns and Seaspan Victoria Shipyards. The criteria by which they were judged: The Employer of the Year Award honors a business that demonstrates exceptional commitment to its employees through: job creation; training & support programs; morale initiatives; recognition & reward programs; employee health & wellness; and professional & personal development. See the finalist video.
Accent Inns being named the winner has helped solidify the companies reputation as an employer of choice for the hospitality industry in BC. 2011 saw the pint sized local BC hotel chain being named the 5th Best Company to work for in BC by BC Business Magazine and now being named the Employer of the Year by the highly respected Greater Victoria Chamber of Commerce truly shows the companies commitment to supporting their employees.
A key indicator of Accent Inns approach to supporting its employees is clearly reflected in the low turnover rates and longevity of staff. The 27 year old company has several employees who have been with them for over 25 years, 20 years, and almost half of the company's roster has worked for them for 10 years or longer. Some companies achieve these numbers at the executive level (although getting rare), but in this case, these numbers are dominated by front line and housekeeping staff. In fact, a recent re-branding of Accent Inns totally focused around the quality of the staff (which they call their "team"). The new "Stay local Stay real" tagline refers to the company not just being locally owned, but also the fact that their staff remains "real" in their interactions with guests. "I could not be more proud or excited than I am right now. Our team is the reason we succeed and their welfare has and will always be one of our companies most important priorities. They're like my extended family." Mandy Farmer, President and CEO.
About Accent Inns
Accent Inns likes to describe themselves as not your typical, stuffy hotel chain. Yes, they have modern, clean rooms, but they will also tell you where to go (in a good way). They will give you the down low on where the locals hang – the hot spots for shopping, dining and hitting the town. Oh yeah, they also like to mention that they are also a pint-sized, boastfully BC hotel chain with five locations; Victoria, Burnaby, Vancouver Airport (Richmond), Kelowna & Kamloops and each of them is a winner of the TripAdvisor "Certificate of Excellence." Stay local. Stay real. 
Contact person: John Espley, Director of Marketing & Communications
Telephone: 250-360-1511  Mobile: 250-213-9605
Email: [email protected]
Website: www.accentinns.com