Congratulations Victoria, It's a Hotel!
Hi there, Victoria Accent Inns here. I'm totally lucky having 4 other "sister" hotels around BC (coincidentally also all named Accent Inns…) and it looks like in just a few days (May 1st is the due date) I'll have to get used to having a new cousin around, a new Victoria Hotel. Me and my siblings are really proud of our great rooms, good service and totally fun attitude but this new family member…. well she's different.
First off, the rest of us all start our names with "A" and this new cousin has gone and called herself ZED, Hotel Zed! When mother Mandy told us to get ready
for new cousin Zed to join us in May we knew that there might be something a little unordinary about this new addition. Little did we know how rebellious this transformed hotel in Victoria BC would be.
The first thing is just how bright her colors are. Oh she still has the family tell tale" Blue Roof" but that's where the resemblance stops. The building has wild colored stripes, the rooms are decorated in equally vibrant colors with retro styled furniture and has beautiful local graffiti artwork. She even has rotary dial phones… can you believe that?! Very old school. Ah but she's a tricky one. Her rooms also have modern 40 inch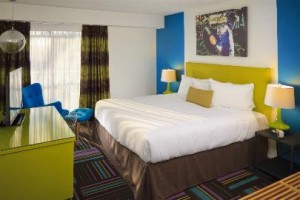 LED TV's with media hubs that let guests do all sorts of neat things. Her indoor/outdoor pool is awesome and has a great outdoor hot tub on the deck, but once again she heads towards the wild side and has added a l waterslide too.
Cousin Zed doesn't stop with just the rooms and pool. The lobby is designed with big comfy chairs, has some great free coffee and get this, vinyl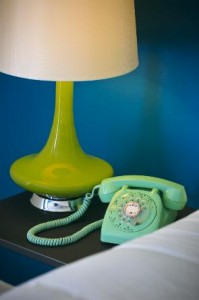 record players and a typewriter for postcards? A typewriter? I told you she was the rebel of the family. Word has it guests will also find a special Ping Pong lounge under the lobby with ping pong tables and Wii stations. The real kicker is once again she has to be different and doesn't just have a hotel shuttle van but her guests will ride in the "Zed Bus", a 1967 classic VW bus! So it looks like the Family will have two very good but very different offers for guests visiting Victoria BC from now on.
Welcome cousin Zed.   www.hotelzed.com    email: [email protected]