Vancouver Airport Hotel Wins Arts Award
This month (May 2014), the Accent Inn Vancouver Airport Hotel won the prestigious 'Business & Arts Award' from the City of Richmond. The award was presented by the Mayor of Richmond, His Honor Malcolm Brodie, at the Richmond City Hall at a presentation ceremony attended by a large number of people. Accent Inns was a finalist selected from over 87 businesses/ nominations. Sincere thanks go to the Gateway Theatre, their board of directors, staff and supporters who nominated us.
One of the few excerpts rewritten & forwarded to us by a journalist:
"Richmond shines a spotlight on the arts local artists, businesses and students lauded for outstanding achievements, contributions. Taking home the "Business and Arts Award" was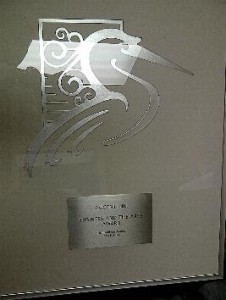 Chris Browne, the general manager of Accent Inns Vancouver Airport. Since 2008 Accent Inns and Chris Browne has fostered a relationship between the hotel and Gateway Theatre, and Accent Inns has since become the theatre's largest sponsor, which includes accommodation for cast and crew for many productions. One of the Accent Inns biggest contributions has been to make the theatre more accessible for low-income families and support to the Gateway Academy for developing talent and new programs for children and youth"
Chris Browne and his team dedicate this award to Terry and Mandy Farmer for their encouragement, support and dedication to the Arts & Theatre over the past many years, and for allowing us to be an instrument and catalyst to foster/ support programs in the Arts & Culture. As patrons and supporters at the event rightly mentioned to Accent Inns long time staff member Sheena Brooks and Chris, quote ' Accent Inns and the Farmer Family has led the way for corporations and businesses to recognize and invest in programs in our communities and allowing Richmond to become more recognized', unquote.
John Espley, Director of Marketing & Communications for Accent Inns