Accent Inn Richmond- Sheena Brooks wins Extra Mile Award 2014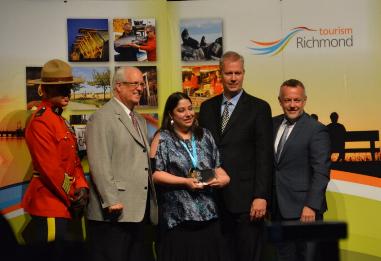 We are totally excited to announce that Ms. Sheena Brooks from the Accent Inn Vancouver Airport in Richmond BC won the 2014 Extra Mile Award. Sheena was presented the award at gala event at the River Rock Resort hosted by Tourism Richmond. "A crowd of over 325 guests enjoyed a fun-filled evening of entertainment, speakers, awards, prizes and a feast of delicious canapés, deserts, wines and ales prepared by local businesses"

The Extra Mile award is presented to front-line staff for going beyond the call of duty to exceed customer expectations.
The yearly recipient is chosen from 12 monthly winners (2013)
Press Release from :"Tourism Richmond announce the names of eight exceptional Richmond customer service professionals honoured with awards yesterday at the sixth annual Tourism Richmond Service Awards. Hosted at the River Rock Show Theatre, this popular event continues to expand each year as Richmond-based businesses and community members enthusiastically rally to applaud the city's A crowd of over 325 guests enjoyed a fun-filled evening of entertainment, speakers, awards, prizes and a feast of delicious canapés, deserts, wines and ales prepared by local businesses"
Way to go Sheena!!