Valentines Day, Hotel Love, And Keeping It Down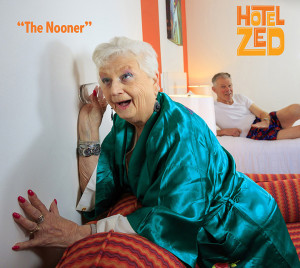 It's that time of year again when love is in the air. Hotel Zed (Accent Inns' rebel sister hotel) is inviting couples back for a 'Nooner' and extended lunch break. This cheeky offer gives fun-loving guests a room between 11 a.m. and 2 p.m. for $50. Accent Inns doesn't offer a similar deal, but overnight stays at great prices are very popular on Valentine's Day and the weekend closest to the day itself.
The cheeky Hotel Zed 'Nooner' got me thinking about making love in hotels and the fact that although Accent and Zed hotels don't have paper thin walls, sound travels – know what I mean?
So how do you make love quietly but still maintain all the passion your love deserves? Here are seven tips for keeping it in the room, so to speak. Of course if you feel the urge to let loose with reckless abandon then go for it. As long as Reckless Abandon doesn't mind of course!
Every time you or your partner feels the urge to make a highly positive and I'm sure endearing loud exclamation, kiss passionately instead!
Pillows are another great suppressor of sound – burying your own face, or if you're at the very top of your, game biting it (the pillow that is) can temporarily mute the sound during particularly exciting and racy moments.
Using play mouth-covers can be fun and a little kinky as long as you're both onboard with a little role-playing. You can pick up soft velvet ones at those romance stores you see on the high street (apparently). This will keep the noisier of the two of you quiet. Be gentle! Take turns.
Find a great action movie on television (Accent Inns has masses of channels) and turn the sound up a tad higher than normal. If nothing else, car chases, shoot outs and screaming will confuse the heck out of anyone listening with a glass stuck to the wall in the next room. Of course, don't be surprised if the local police knock on the door if it all sounds a little too real.
Think of something else exciting both of you can do with your mouths to keep them busy – just saying!
Slow everything down – you've heard of slow food? Try slow sex. Same moves, a fraction of the pace. This intensifies the passion, and at the same time expletives become quieter – more sighs than screams.
Have a competition to see who can be the quietest longest. Now, what could the prize be? Of course, only you can decide what the ultimate award should be.
Make hotel room love fun and exciting with the Accent on fun. Visit an Accent Inns or Hotel Zed for your Valentine's Day adventure, and tell the fun people working there you read this blog – nudge, nudge, wink, wink, say no more!
Mike Wicks
Blue Beetle Creative