The 6 Things I Must Take On A BC Road Trip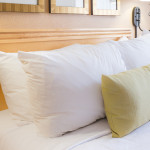 I was packing the car the other day, getting ready for a trip to Whistler to visit family and cursing the amount of stuff we always seem to take with us. No matter where we're going, or for how long, it always seems the car is full. It got me thinking if I was going on a road trip what would be the six things I couldn't live without? I don't mean the standard stuff you simply have to pack like your wallet, medicines, cell phone – all the obvious stuff such as a laptop if you're going on business, but those things that make travelling a little more civilized and comfortable.
I'm sure your list would be completely different to mine, so feel free to criticize, or say what the @**%##, or shake your head in disbelief. This is a very personal list and is predicated on the trip being within B.C.
My pillow – I love my pillow, it's king size and has a special gel filled centre that provides support while the rest of the pillow is soft and pillowy, giving me the best of both worlds. Many hotels, even expensive ones have crap pillows so this is a must have for me. Having said that, I should make it known that in my experience Accent and Zed hotels make a special effort to have excellent pillows. It's sort of what they do; get that small stuff right!
My Camelbak Eddy water bottle. I hear you say, really? Any water bottle would do wouldn't it? Well yes, but I've had lots of bottles over the years and this is the one that has stuck around the longest. Why? It's the fact that you just have to flip (the straw), bite (to open the straw) and suck. No tipping required, which is really good when you're driving, or when you want a slurp in the middle of the night from a prone position. And no, I don't have shares in the company!
My Tom-Tom navigation device. Any navigation system will work; this is just my preferred one as I have the one that comes with lifetime updates which is cool. What's funny is that I have a built-in Sat-Nav system in my one-year old Ford Escape but guess what? They want to charge me $250 for the update! So, out comes my old Tom-Tom and I'm back in business.
My Moleskine notebook – heck I'm a writer, what do you expect? Again, they're not paying me to say this, but I like the way that even their simplest notebooks are stitched and come with elasticated bands to keep them shut. It's surprising, if you travel with a notebook and jot down your thoughts, record your experience, review coffee shops and restaurants, how rewarding it is to go back a few years later and read what you wrote. As I write this I opened one of my notebooks randomly and came across this line, "Take a King Henry VIII approach to live spot prawns – off with their heads!" I was transported back in time to a seafood restaurant in Victoria – pleasant memories. Notebook – worth its weight in gold in my opinion.
A Bluetooth speaker and a subscription to Apple Music, Spotify, or whatever. I love having my complete music collection with me when I travel. In my case it's the Bose SoundLink -light, compact but amazing sound.
My iPad – I'm a Netflix addict so have to have a good way to view my favourite programs, or watch a good movie. Travelling in B.C. I stay at Accent Inns so I am always assured of free, secure, high-speed WiFi. They have a 5mg dedicated pipe that provides great speed and with several modems strategically placed around the property, I can always watch without glitches.
So that's my six, what's yours?
The one thing I think I might add, once I purchase one, is an Olloclip 4-in-1 clip-on lens for my iPhone 6. I just discovered this and can't wait to try it. I always used to carry my digital SLR camera everywhere but increasingly got tired of lugging it around. Now I just take photos with my iPhone, but they're not as good as I would like. The Olloclip enhances the field of vision of the iPhone and features four optional lenses. Neat! The only thing is – what item would I remove from my list above?
Mike Wicks
Blue Beetle Creative