SOS Children's Village Johannesburg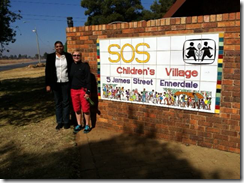 Back in July, Donna Price ( Regional Sales Manager Sports and Groups for Accent Inns)  and a few friends had a special opportunity to visit the SOS Children's Village, Ennerdale just outside of Johannesburg. This is a look at their trip and experiences….
It was a beautifully kept place for almost 200 children who come from different circumstances (orphaned or lack of family care). They integrate the children in the community in Schooling, projects and prepare the kids to be self sufficient once they leave the village. The children were well taken care of in a home-style setting. In addition to the children, they also have small homes for the retired house mothers or "aunties". We met a couple of them – one 62 years and one 86 years old.
" it was an exceptional opportunity to see how every child should be valued and cherished "
The eldest auntie was hesitant to meet us and pose for pictures as she had forgot to put in her dentures….but after saying SMILE as the camera was pointed – one of us said YES, SMILE BUT NOT YOU…(jokingly) and we all (including the Aunties, broke out in giggles) and a lovely smile! (even without teeth) As one of our group who is adopted said " it was an exceptional opportunity to see how every child should be valued and cherished – they are given a chance for a better future"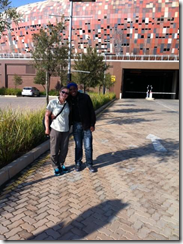 Soccer City

 I had the opportunity to have a private tour of Soccer City (FNB Stadium), just outside of Soweto in Johannesburg. My zulu guide, Siphiwie explained this stadium was modified from an existing one for the 2010 World Cup. Soccer City venue hosted Nelson Mandela for the opening and closing ceremonies in 2010. This 100,000 seat venue is shaped like a calabash (squash), the tiles which compose the calabash were almost all locally made and at night with the lights on it looks like it is on fire. My tour took me through the locker rooms, shower and team rooms where many of the world's greatest soccer players have been, out on the grass field and in the VIP President's room – one of the best viewing areas. Now the home to the professional team, Kaizer Chiefs FC, this stadium hosts numerous soccer and rugby matches. (Donna/aka zulu name Ntombi) July 5 Thank you to Metro of the First Nations Soccer Association for arranging this!

To Learn More about SOS Children's Villages click here