Dog Friendly Kamloops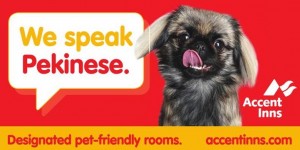 At Accent Inns we not only speak Kamloopsian, we also speak Pekinese and Boxer and Terrier.  And while Kamloops B.C. is a great city to visit for many reasons; one of the best is its dog-friendliness!
Activities ranging from kayaking, hiking and rock hounding to rollerblading, GeoCaching and beach walking are all possible with your four-legged family members.  Kamloops has 15 off-leash dog parks, 14 on-leash parks and 3 off-leash dog beaches.  If this isn't doggie heaven, it's certainly on the way!
The City of Kamloops is so dog-friendly Tourism Kamloops actually has a doggie mascot – a Golden retriever named "Kamloops Kooper".  Kooper is especially fond of hiking in Kenna Cartwright Park and Peterson Creek, and wandering among the downtown sidewalk cafes where there are always doggie water bowls to help keep him cool on those hot and sunny Okanagan summer days.
While in Kamloops be sure to check out the Farmer's Market on Wednesday, Friday and Saturday  where dogs are not just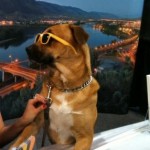 welcome – there is a dog-biscuit table to satisfy that those between meal cravings. Also be sure to grab a coffee at Caffe Motivo's dog-friendly patio.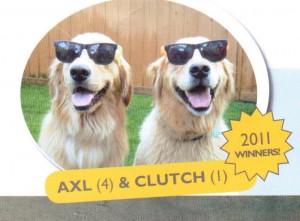 So, start planning your summer getaway for the whole family in Kamloops.  Begin by booking a pet-friendly room at Accent Inns where dogs are not just tolerated; they are welcomed with treats and poop bags and a special towel to clean off their feet after an action packed day.  As soon as you check in our staff who are the local experts on what to do in Kamloops will help you plan your days and then later on  welcome you back for a great night's sleep.  Don't forget to grab a cookie and hot chocolate in the lobby before bed!
Karen England, Regional Sales Manager