Sierra Club BC Volunteers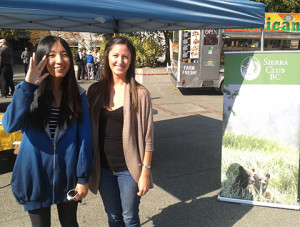 Sierra Club BC depends on volunteers for many things – from helping us plan certain events, to reaching out and thanking our donors. You can find a volunteer in our office almost any day of the year, working on a project. For example, Diane worked diligently through much of the winter, digging through our archives (which go back to Sierra Club BC's founding in 1969) for a history project that we can't wait to reveal.
But it's summer when you're likely to encounter a Sierra Club BC volunteer, out representing us at events across BC. We regularly have tables at farmers markets like the Moss Street Market and the Metchosin Market in the Victoria area, and you can often find volunteers at a Sierra Club BC table at summer festivals such as the Vancouver Folk Fest.
When volunteers head out to these events, they usually return with big smiles and stories about great climate change conversations they had, or someone approaching the table just to thank them for the great work they do with Sierra Club BC.
And sometimes the fun is in the journey, as with volunteer Sue, who recalls a long day-trip to Vancouver with volunteers and staff, to attend an important rally: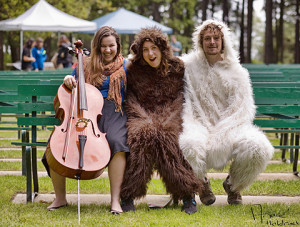 "Anna and Soile were still singing at the back on the top of the double-decker bus on the way back from the ferry. Greg and Katherine from the Council of Canadians came up to join us and started singing along. Two girls in front of us starting singing too. Then half way down the bus, a guy bent over, unpacked his fiddle and came back to join the party and play too! Soon the whole top of the bus was singing along. We rocked all the way back to Victoria. Magical."
When you're confronting something as big as climate change, it's important to be hopeful and optimistic amid some of the more alarming news we hear—and to have fun along the way! Our volunteers have a sense of purpose, but they also have a really great time together.
We thank our volunteers for working so hard, and for allowing us to achieve so much more than we could alone. And for the smiles and the singing and the laughter. It's all part of building a community that can tackle big challenges and build a better future for all of us.
If you'd like to get involved as a Sierra Club BC volunteer, drop us a line here: http://sierraclub.bc.ca/about/join-the-club/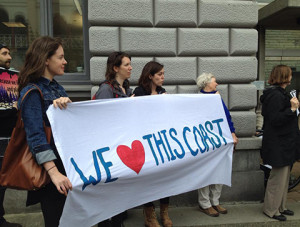 Galen Armstrong
Outreach Coordinator, Sierra Club BC
[email protected]