Take the Ferry to BC!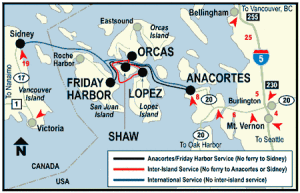 One way or another, many Accent Inns Victoria hotel guests arrive from the U.S. on one of the many ferries that ply the waters between our countries.; they travel by car, by bicycle or by motorcycle. For those already on the island, fabulous ferries are available to transport them between the mainland and Vancouver Island.
When I first came to Vancouver Island some 24-years ago I was amazed by the quality of the many ferry systems on the west coast. Since then I've travelled on just about every route dozens of times – I love the experience. It's easy to criticize ferries on the basis of cost, facilities, delays, or whatever, but compared to other parts of the world we have it pretty darn good here.
If you are planning to arrive from the United States; Washington State Ferries sails from Anacortes (stopping briefly at Friday Harbor) to Sidney (15 miles north of downtown Victoria) daily from early Spring to early Fall. In 2015, 139,039 passengers used this service. The two ships that service this route are the MV Chelan, carrying 124 vehicles and the MV Elwha 144 vehicles.
It is such a stunningly beautiful journey that I know many people, during the peak season when there are more sailings, who sail to Friday Harbor from Sidney or vice versa for lunch and return the same day simply to travel through the San Juan islands and enjoy the views, the orcas, and other wildlife. This ferry operates seasonally so check your dates on the WSF website www.wsdot.com.
From Sidney, travelers can either mosey around Sidney, head downtown to Victoria, or travel north a few miles to catch a BC Ferry to Vancouver or one of the many Southern Gulf Island. If you find yourself heading into Victoria on the pat Bay Highway, check out the Accent Inns hotel on your left about 14.5 miles from the ferry terminal.

Another great way to arrive in Canada by ferry is to take the MV Coho from Port Angeles to downtown Victoria, which carries 1,000 passengers and 115 vehicles. Arriving by ship with amazing views of the iconic Empress Hotel and the 120-year-old British Columbia Parliament Buildings is not to be missed. I love this ferry; it has something of a fifties style to it; I came across this post from someone called Lorrie on trip advisor recently, which I thought summed it up nicely: We just love the Coho Ferry! In fact, we love it so much that we got married aboard her last year!! She is just such a charming old girl and with the room upstairs at the front as our "natural chapel" and the back drop of the Olympic mountains, how could you find a better place to get married. Check out Black Ball Ferries schedule at www.cohoferry.com.
If you want travel without a car then the Victoria Clipper high-speed catamarans used for passenger ferry service between Seattle and Victoria, BC could be just the perfect way to arrive in downtown Victoria. The company also has a Seattle/San Juan service offers vacations, tours, whale-watching and more. The Victoria Clipper IV reaches speeds of up to 30 knots and carries 324 passengers. http://www.clippervacations.com/vessel-information/
From downtown Victoria, heading north on Blanshard Street you'll find the Accent Inns.  A great place especially if you have bikes, pets, or just like somewhere that offers kitchens and makes you feel at home. It's less than 3-miles from the ferry. An alternative is the much talked about Hotel Zed on Douglas St, just a few blocks from the Accent Inn. If you're looking for a funky, clean accommodation with a swimming pool and waterslide, Hotel Zed never disappoints and like Accent Inns, is owned by the local Farmer family.
I can't talk about ferries without mentioning the cruise ship like car ferries operated by BC Ferries that ply the waters between Vancouver Island (Swartz Bay) and the Lower Mainland (Tsawwassen). Almost 1.5 million vehicles and 5.0 million passengers travelled this route during 2015.
BC Ferries is one of the largest ferry operators in the world, providing year-round vehicle and passenger service on 24 routes to 47 terminals, with a fleet of 34 vessels. In fiscal 2015, they carried 19.8 million passengers and 7.7 million vehicles throughout coastal British Columbia. www.bcferries.com
To my mind, it's hard to beat the trip from Swartz Bay to Tsawwassen – it is incredibly beautiful, especially when the ship goes through Active Passage and another BC Ferry passes you in the narrow waters. I've seen orcas many times and all sorts of other wildlife. The Pacific Buffet available on most sailings is amazing – to sit in a restaurant, eating first class food, surrounded by panoramic windows as the ship passes through the magical BC coast is a once in a lifetime experience not missed. I count myself as truly blessed to be able to make the journey frequently – I never get tired of the amazing cruise-like experience of sailing from Victoria to Vancouver.
Mike Wicks
Blue Beetle Creative