Shaw's Fill The Food Banks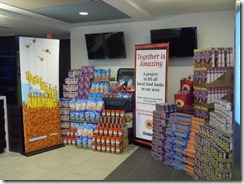 Thanks to the folks at Shaw, Together really is amazing. This is the second year for the "Fill the Food Banks" campaign.  This is a very important and timely campaign as it reminds us that the "need" is there all year long. We have many wonderful events around the Christmas season which raise tons of food for our local food banks. These are fantastic and thanks to all who donate at that time BUT what we all must remember is that the food banks operate 365 days a year and each month of the year close to 900,000 Canadians look to food banks to feed their families.
Here we are in May and thanks to Shaw the challenge facing our friends and neighbours that need a food bank to feed their children is once again top of mind. In 2010 our friends at Shaw raised an incredible 2.6 million pounds of food and this years campaign ending at the end of Hunger Awareness week (May 11) hopes to match or exceed that number.
How can you help? It's really easy, Monetary donations to local food banks can be made online by visiting www.togetherisamazing.com.
Donations of non-perishable food items are also being accepted at any Shaw, Shaw Direct or Shaw Media location, food banks across the country, at many grocery stores and  your local Accent Inn is happy to collect and forward donations in support of this most needed campaign.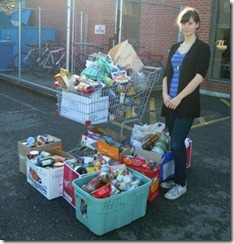 The good folks at Shaw have gone once step further and this year. A Fill the Food Banks video is on Shaw's YouTube page. For every unique view of this video throughout the campaign, Shaw will donate one dollar and Campbell Canada will donate one pound of food to the 2012 drive, up to a maximum of $250,000 and 250,000 pounds of food.
Further details and a full list of locations where donations can be made will be available at www.togetherisamazing.com.
If you are in Victoria BC Wednesday May 2nd, watch for the Shaw staff with support from Accent Inn team members in front of the Accent Inn Victoria BC Hotel on Blanshard st from 3-5pm. They'll be waving, hooting and hollering at passing cars drawing attention to the campaign and reminding folks to help "Fill the Food Banks".  As was said at the beginning, thanks to the staff of Shaw for reminding us that Together really is amazing and working together we can make a difference.