Save Now – Vacation Later Guilt Free!

I don't know about you, but I am guilty of putting last minute vacations on my credit card for no better reason than, "Heck we need a holiday, or we really need a break" add your own excuse, or rationale here. I've come to the conclusion the guilt, pain and suffering of having the debt hanging over me for years is not worth the hassle.
One of my resolutions for 2016 is to save for my vacation ahead of time. This got me thinking about how best to go about it. I could just try to put a little by each week, or month but will it be enough? Will I keep up with it?
So I sat down with my wife and discussed what travelling we wanted to do this year; a few long weekend trips, a Mexican inclusive perhaps, California? Bottom line we came up with the amount we needed which gave us an idea of what we needed to save each month. Yikes!
When planning a trip, consider using the same hotel chain regularly; loyalty programs can be valuable. Accents Inn's Corporate Frequent Guest Rewards Program for instance gives business travellers a free night after every ten nights stayed.
Knowing how much you need is half the battle and may lead you to come up with more realistic expectations, or a longer timeline, or both. Once you know the amount of time before you intend to leave, or pay for the trip, you can work out how much you need to save each month.
One of the best ways to do this is to arrange an automatic bank transfer from every pay period to a savings account. And don't be tempted to dip into it for any reason! To supplement this empty your pockets of change every day and put the coins into a jar, or other container. You'll be surprised at how much you can save. Being a coffee fanatic I'm usually tempted several times a week to stop at a coffee shop for my favourite beverage – an Americano Misto – however lately I've been asking myself whether I really need the coffee or whether I want to add the $5 or so to my travel savings. Surprisingly, I'm now finding my travel jar $30-40 a month better off!
Other ways to save money include getting a part-time job, selling stuff you no longer need (de-cluttering is a bonus) or making things to sell. Be creative, there are lots of ways to make a few dollars here and there.

Collecting Airmiles, using frequent flier plans, and using credit cards that give rewards points can provide flights for free saving a ton of money. I have enough on one of my credit cards for two flights anywhere in Canada, or one for Europe! And I have enough points on a frequent flier card for another flight. As long as you pay off the credit card each month, using a card for all expenses can add up to free travel quicker than you might expect.
I'm a visual person so I've also created one of those fundraising thermometers so I can watch myself getting closer to my monetary target and of course enjoying my vacation. Seeing it inch closer to that week in the sun does wonder for my ability to stay the course.
As I write this in the middle of January 2016, I'm noticing the Canadian dollar drop through the floor. My U.S. or Mexican trips now seem a little further away especially now the dollar is at 69 cents against the USD. To put this into perspective a hotel night at $200 USD will now cost $291 in the States. A sobering thought – I think I might look at staying closer to home this year; the Okanagan has suddenly become very appealing. I just visited the Tourism Kelowna website (http://www.tourismkelowna.com) and between the great photographs and the tag line "Urban and rural; nature and culture; playtime and downtime: Kelowna isn't just one destination. It's a whole bunch of them, located in one uniquely beautiful place" I know where I'm headed this summer! Wineries, great restaurants – who needs to leave BC? And, I can now drastically reduce the amount we need to save each month – bonus!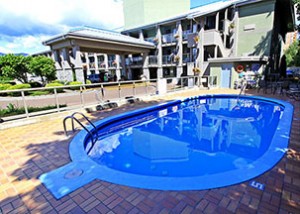 I know the Accent Inns in Kelowna well, and it's a wonderful hotel at a price I can afford with a great outdoor swimming pool. That's where I'll be this summer, assuming of course I can keep to my savings plan.
Here's a list of items you might like to use to help you figure out what you need to set as your target vacation amount you need to save.
Before You Leave
Travel insurance, Passports, visas & travel documents, Pet kennels, Phone/calling card expenses, Internet access/cafes, Currency exchange & bank fees, Immunizations/medications & Luggage & gear.
Transportation
Airfare, Checked baggage fee, Airport parking, Airport transfers, Other airport fees/costs, Train fare(s), Coach fare(s), Public transportation & taxis, Car maintenance (in readiness for road trip), Car rental, Gas & Parking/tolls.
While Your There
Accommodation ($ per night), Meals ($ per day), Drinks (coffees, teas. wine, cocktails etc.), Tips (drivers, tour guides, hotel staff, etc.), Organized tours (e.g. zip lines, boat trips, or cruise day trips), Activities, tours & entrance fees, Nightlife/entertainment, Spa treatments, Souvenirs/shopping/gifts, Private pool cabanas and other luxuries, Gratuities: days x $/day & Miscellaneous spending money.
Mike Wicks
Blue Beetle Creative