Camosun coach heads up commentary of Olympic proportions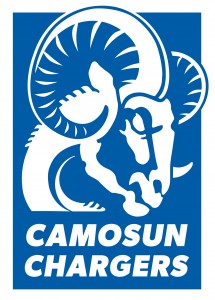 Below is a re-post of their latest press release
Undefeated at 12-0, the Camosun Chargers men's volleyball squad is No. 1 across the country and out to defend their 2014-15 Canadian Collegiate Athletic Association (CCAA) National Championship title. This weekend, the team travels to Abbotsford to open the second half of the season against familiar foes, the University of the Fraser Valley Cascades. However, the team will have to do without bench boss Charles Parkinson who will be trading in his Head Coach duties to head up the Play-by-Play at the 2016 Men's NORCECA Continental Olympic Qualification Tournament in Edmonton, January 8-10. The winner of the qualifying tournament will go to the 2016 Olympic Games in Rio de Janeiro and Canada is in the running.
Parkinson, who has been involved in broadcasting for 25 years, has served as an Analyst for both Beach and Indoor events and has had the opportunity to work at four Olympic Games. Today, Charles talked to us about his commentating experiences and recapped some of his favorite moments from the broadcast booth.
When did you begin commentating for world-class events?
I have been involved in broadcasting for 25 years, starting with the World League in 1991. I spent many years as an Analyst for both Beach and Indoor Volleyball and had the opportunity to work at 4 Olympic Games (Atlanta, Sydney, Athens and Beijing, as well as Pan Am Games, including 2015 in Toronto, and World Championships, World Leagues and World Cups. I switched to Play by Play commentary some years ago and am looking forward to the Olympic Qualifier in Edmonton because the Canadian team is ranked #1 in the event and have beaten Mexico, Puerto Rico and Cuba regularly over the last few years. I have worked at other qualifiers only to see Canada come up a match short so I'm hoping to experience the thrill of calling an Olympic Qualifying match for Canada.
What do you enjoy most about commentating?
First and foremost I love watching world class volleyball. It is a thrilling game of power, finesse, strength and skill and rarely fails to engage spectators because of its spectacular execution. Although I have to be aware of what is going on at all times I find it easy to get caught up in the excitement of a match and I love having the opportunity to convey that feeling to an audience that may not have been exposed to the sport since they were in grade school.
Is there an event that stands out as the most exciting or enjoyable so far?
I've called so many matches over the years that it is really tough to single out one. On the indoor side, some standouts include the 1996 five set Men's Final between Italy and the Netherlands. It was an epic battle using the old 15 point scoring system that lasted for hours and was full of remarkable plays. Equally as tense was the USA's win over Brazil in 2008. So much had happened to the Americans at that event and the way they kept their composure was quite remarkable. The 1996 Women's Olympic Semi Final between Brazil and Cuba was also a phenomenal match with emotions running so high that there was an actual fight at the end of the match. Calling the match where China defeated Coach Karpol's Team Russia in Athens was also something special. In Beach Volleyball, Mark Heese and John Child's Olympic Bronze was epic, as was Jody Holden and Conrad Leinemann's Gold at the Pan Am Games in Winnipeg. Dalhausser and Roger's Gold medal in Beijing was a great one as was Misty May and Kerri Walsh's 3-peat in Athens.
What do you do to prepare for a broadcast?
There are different parts to preparing to call a match. It starts with understanding who the players are that will be competing (and of course, getting the pronunciation of their names right). Sometimes, just getting rosters can be difficult and you have to dig for information, but once that is secured I try to find out who these athletes are – where they come from, how they got started in volleyball, what they have achieved to date, where they play their professional volleyball and the like. This helps me to develop questions because when we actually get to the event we set up as many interviews as we can with players and coaches. At the same time I research archival data to look at player stats from previous international events that they have competed at. Finally, we look for story lines before each match. This might include injury stories, head to head match-ups, teammates on pro team facing each other, come-backs, etc. Calling the games is actually the easiest part of broadcasting.
Will you be commentating at the Summer Olympics in Brazil?
You never know what will happen as far as the Olympics go. I'd like to think that my involvement with the Pan Am Games last summer and now the Olympic Qualifier would set up nicely to call the Olympics, but it may depend on whether Canada's men or Women's teams can qualify and how much the network intends to focus on volleyball. Both beach and Indoor are always popular sports at the Games and I'd be excited to call my fifth Olympics if I had the chance.
Catch Charles calling the action at the 2016 Men's volleyball Olympic Qualification Tournament LIVE, January 8-10 on CBC.
Teams will face each other in a round-robin format (times listed are EST):
January 8               5pm Canada vs Mexico; 7pm Cuba vs Puerto Rico
January 9               1.30pm Canada vs Puerto Rico; 4pm Cuba vs Mexico
January 10             5pm Puerto Rico vs Mexico; 7pm Canada vs Cuba