8 Exciting Winter Activities Across B.C.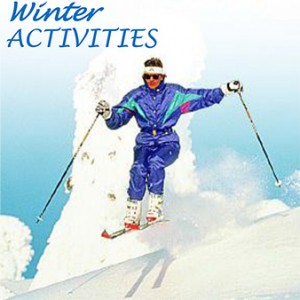 Full disclosure, I'm not a fan of the cold, the rain, and especially snow. If I didn't love Canada, and especially B.C. so much, I'd move to somewhere the sun is always shining. Now, that's not to say I don't like après winter activities – you know watching people have fun from the bar with a dry martini in hand!
My sons however love everything about the outdoors life in winter so I asked them what the heck can people do in the middle of winter in B.C.? Well, you'd have thought I'd asked a stupid question, which apparently I did. They rattled off five and then looked pitifully at me and said and there's three that even you might enjoy dad. Ouch, burn.
So here's the list – it might not be complete but it's enough to keep even the most ardent snow lover busy for a week or two's vacation.
Skiing and Snowboarding – well duh! The Thompson-Okanagan is a great place for family-friendly ski resorts with slopes to suit old farts like me, young kids and skilled Black Diamond thrill-seekers. The major resorts are: Sun Peaks; Big White; Silver Star; and Apex.
Vancouver is a city that also doubles as winter sport paradise. Vancouver has three mountains for skiing: Cypress, Grouse, and Seymour (the North Shore Mountains).
Backcountry Skiing – Check out Mount Robson Provincial Park and Wells Grey Provincial Park – both are easily accessible. If you want more adventure explore the Monashee Mountain's backcountry. All in the Thompson-Okanagan.
Cross-Country Skiing – there are trails at Sovereign Lake and Silver Star Resort. And if you're staying at an Accents Inns location in Vancouver take a drive out to Cypress Mountain in West Vancouver – there you'll find almost 20 kilometres of trails and enjoy city, mountain and ocean views as a bonus.
Snowshoeing – just about any ski resort in B.C. will rent equipment and provide tours. Again, if you're staying at either Accent Inns in Kamloops or Kelowna, Sun peaks; Big White; Silver Star; and Apex are the places to go. Consider sunset or night walks and other specialty tours. Vancouver also has pristine trails at Cypress Mountain, which was used as an official venue for the 2010 Olympics.
Dogsledding – here's something completely different to check out in the Thompson-Okanagan region. This sounds more like me, sitting back while a team of sled-dogs pull me through the wilderness.
If you're like me and the snow and cold doesn't excite you, then you might want to treat yourself to a winter break in Victoria on Vancouver Island. Here are three things you might like to do if you decide to check out Accent Inns Victoria, or its sister Hotel Zed this winter.
Victoria is home to hundreds of restaurants and 60 of them will be taking part in the Dine Around & Stay program which runs from February 19th through March 6th 2016. This is where you get a chance to sample great restaurants at bargain prices – not to be missed!
From February 5th to 14th 2016 Victoria celebrates high quality films at the annual Independent Victoria Film Festival where you can choose from over 100 films during the ten-day festival.
Victoria is home to Canada's oldest Chinatown so don't miss celebrating the arrival of the year of the monkey February 14th at the annual ceremonial Lion Dance.
Of course Victoria has so much more to offer when the weather's cold outside; an award winning museum, a top notch art gallery and more.
Staff at any of the Accent Inns in the province can give you the low down on all the things you shouldn't miss – just ask when you book; I've always found them very knowledgeable and way friendlier than most other hotels. By the way, I always love the way the people at Accent Inns embrace winter by having cookies and hot chocolate waiting for you on arrival – nice!
Mike Wicks
Blue Beetle Creative