Russ Hay's Accent Inns Cycling Team p/b Scotiabank Official Newsletter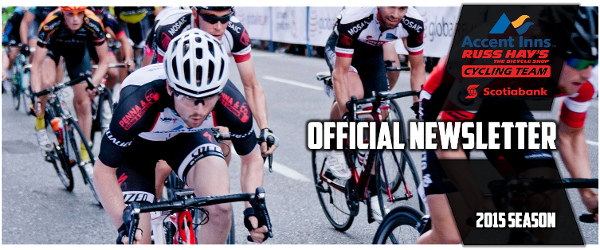 Prairie Boys at World CycloCross Champs Recap
DANICK AND OLIVER RACE WITH WORLD'S BEST IN TABOR, CZECH REPUBLIC
In what is without a doubt the biggest cyclocross cycling event in the World, Canada's own Danick Vandale and Oliver Evans did their country proud and raced toe-to-toe with the best cyclists in the world in front of millions of TV / Online viewers and over 20 thousand live spectators.
The two Accent Inns/Russ Hay's racers from Winnipeg, Manitoba came into the event representing the Canadian National Team. With open eyes and realistic expectations, Danick and Oliver knew they were entering a sport that has been part of the European cycling culture for many decades.  Having raced in the UCI World Cup in Hoogerheid, NED the previous weekend, both Danick and Oliver were anticipating another similar race that would start fast, and keep fast and furious throughout the entire 1 hour race.
In the men's Junior race, Oliver Evans rallied from a fast and congested start to finish and overcome crashes to a respectable 43rd.  The course seemed to be frozen for the Junior Men which would have resulted in a fast race. But as things got underway and it warmed up the course became more muddy with a number of riders going down.  In an interview with Pedal magazine, Oliver explains: "Apart from having a poor start, I felt really strong during the race. I crashed a couple times on the first lap as the slippery corners caught me by surprise. …I won the sprint for 43rd, which is probably the only sprint I've ever won, so there's a plus! Apart from my result though, that was probably the most fun I've ever had in a bike race. It was so cool to race with a huge crowd screaming around me."
Danick Vandale would also experience mixed emotions as he would battle in the U23 men's race and try to improve on his performance in Holland the previous week.  He was cut off early in the start.   However, an unexpected mechanical issue later in the race resulted in lost momentum and held him back to finish in 46th.  Ever the optimist, Danick was all smiles and took this as another amazing learning experience.
Video Interview with Danick: [youtube]https://www.youtube.com/watch?v=3o4QI1M27Bs [/youtube]
Junior Men Results

1. Simon Andreassen (Den) Denmark  0:42:24
2. Eli Iserbyt (Bel) Belgium  0:40
3. Max Gulickx (Ned) Netherlands  0:41
4. Gage Hecht (USA) United States Of America  0:44
5. Thijs Wolsink (Ned) Netherlands  1:10
6. Stefano Sala (Ita) Italy  1:27
7. Jakob Dorigoni (Ita) Italy  1:30
8. Eddy Fine (Fra) France  1:34
9. Jarne Driesen (Bel) Belgium  1:53
10. Stegen Van Der Roel (Ned) Netherlands  1:58
42. Willem Boersma (Can) Canada  4:29
43. Oliver Evans (Can) Canada  4:32

U23 Results

1. Michael Vanthourenhout (Belgium)  0:49:55
2. Laurens Sweeck (Belgium)  0:10
3. Stan Godrie (Netherlands)  0:14
4. Clement Venturini (France)  0:24
5. Joris Nieuwenhuis (Netherlands)  0:31
6. Toon Aerts (Belgium)  0:45
7. Jakub Skala (Czech Republic)  1:06
8. Diether Sweeck (Belgium)  1:14
9. Quinten Hermans (Belgium)
10. Gioele Bertolini (Italy)
46. Danick Vandale (Canada)  7:12
TEAM ISSUE SPECIALIZED TARMAC EXPERT OVERVIEW
The Accent Inns/Russ Hay's Cycling Team p/b Scotiabank will be racing on the new 2015 Specialized Tarmac and Venge Expert models.  New for the 2015 Tarmac is the FACT 10r carbon Rider-First Engineered™ frameset for the best fit and race-day performance. The Tarmac team issue bike comes equipped with Shimano Ultegra Mechanical 11sp drivetrain, FSA Carbon Cranks, Specialized Tires/Bars/Stem/Seatpost/Saddle, Look Keo 2 Carbon Blade Pedals, Lezyne Carbon Cages, and Energylab Wheels.  visit www.specialized.com for the complete product line-up.
The Accent Inns Russ Hay's Cycling Team is one of BC's top trade cycling teams with emphasis on the development of high performance cyclists.    The team will compete in the top races in Western Canada and the United States Pacific Northwest. Visit www.russhaysracing.com for more information.
follow us on:
Blogger: http://russhaysracing.blogspot.com/
Facebook: http://goo.gl/0HohqW
Twitter: https://twitter.com/russhaysracing
Youtube: http://goo.gl/tUPbrT
Flickr: http://www.flickr.com/photos/russhaysracing/sets