Accent on Valentine's Day – Our Top 8 Tips
Any one of our 5 Accent Inns in British Columbia are a perfect home-away-from-home when visiting your loved ones at any time of the year, but consider celebrating Valentine's Day at one of our five locations  and you'll find we can do romantic too!
Here are five tips to creating a perfect romantic evening for that someone special in your life – all in your hotel room.
Book one of our Executive suites at our Burnaby location and you will be sure to impress your loved one for that special night away!
Use our free great WiFi to access the cloud and play your favourite music, watch movies, access old photographs of you and your Valentine, and Skype loved ones.
Champagne – or at least sparkling wine is a must (non-alcoholic sparkling wine is available at most grocery stores). There's nothing like a glass of the bubbly stuff to get you in the mood for  romance. If you can't run to the real thing, not to worry there are lots of wines that are just as good; they don't bear the label 'Champagne' but they'll do the job just as well. A favourite romantic alternative is an Italian Prosecco – which seems to exude romance. A great sparking wine that has many Champagne characteristics is Hungaria Grand Cuvee Brut – excellent for under $16!
Chocolate covered strawberries are the absolute best thing to enjoy with Champagne, so either make your own, or stop on the way and pick them up from Save-on foods (use your more rewards) who sell large, fresh strawberries
dipped in melted chocolate truffle and drizzled with even more decadent chocolate. Feeding each other with these is bound to make you feel romantic and sexy!
Chocolates always go down well, so pop along to your local Purdy's Chocolatier and pick up a chocolate rosebud, or a velvet heart box is packed with an array of Purdys' famous milk and dark chocolates.
Write a love letter to your Valentine – it doesn't have to be long and it needn't be poetic, just tell them how you much you value them and how much they mean to you. Once you are in your room, with your glass of champagne and chocolate covered strawberries, simply read it to them. The result is guaranteed to be romantic!
Plan a trip to Victoria BC. We have an Accent Inn there. Recently named the 'Most Romantic City in Canada' Victoria won the title for the second year in a row in a survey carried out by Amazon based on sales data of "romantic items" Spring is the season of love and in Victoria and we are already seeing blossoms on the trees downtown, crocuses and daffodils poking their way through the earth and the annual flower count will take place in just a few weeks. Last year volunteers counted 1,392,393,203 blooms!
Of course you can always surprise your Valentine by taking him or her on a special trip, perhaps to somewhere warm and tropical or even Las Vegas. If this is your plan remember that our Accent Inn Vancouver Airport location has great stopover packages as you travel to or from your fun destination.
Did you know red roses mean true love, yellow mean joy, or friendship, pink happiness, or sweetheart and white purity or innocence? Make sure you convey the correct sentiment when giving your Valentine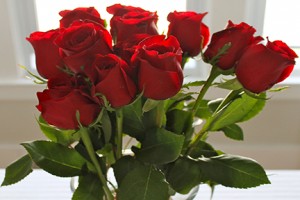 those dozen roses!
On the saucier side, did you know that condom sales increase by as much as 30% around Valentine's?
If you're a true romantic you will think of a lot of other things to do to make your evening special. If dinner out is on the cards, stop by the front desk at any Accent Inns and we'll tell you where the most romantic restaurants are in town.
Mike Wicks
Douglas, YAM and Salt Magazines