The Passing of a Hotel
By John Espley.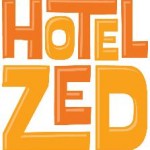 A few days back we introduced you to Accent Inns new cousin Hotel Zed. Today is the day when Hotel Zed officially comes into being but that also means we are saying goodbye to an old friend, The Blue Ridge Inn. Other than the general outline of the building, the transformation into Hotel Zed essentially removes all traces of Blue Ridge.
Think of it as saying goodbye to an old car. It did you well for many years. Only required servicing at the appropriate times but alas, the mileage was high and the style, well let's just say not really anything that will ever obtain that "timeless" quality.
Now it's funny that the new kid on the block actually has some subtle hints of retro styling. The new Victoria BC hotel even has rotary dial phones! Ah but
although older in style, these phones have some added electronics that make them work with todays phone systems. Yes you can "dial" one to hear the message in English, or "dial" two to reach the sales department.…lol What about the 67' VW Zed Bus. It's not old it's "classic" and really cool too!
This weekend attendees to Victoria's Social Media Camp have the chance to enter Hotel Zed's first ever contest on twitter by taking a picture of themselves with the Zed bus at the conference.
So time to say R.I.P Blue Ridge Inn cause "Zed style" has come to Victoria!