Pardon My Striptease and Lilee-Jean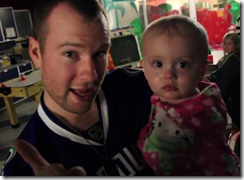 This is a story that came to our attention. We just have to share it and  to make sure the cause is kept top-of-mind.
Lilee-Jean is a little girl diagnosed with Glioblastoma, a very aggressive brain cancer and has been undergoing surgery and chemo-therapy at BC Children's Hospital in Vancouver.
Her loving family is there for support but this child is lucky to have one very special man in her life – her father. Andrew Putt is a singer with the band Pardon My Striptease. Not only is he a talented musician (see the video) but he and his band have help raise tens of thousands of dollars for BC Children's hospital. They even managed to get support from the well-known band NickelBack! Accent Inns has worked with BC Children's for many years and we have seen so many families get incredible help and support from this very special hospital. We all owe the Band a huge thank you for their efforts and let's wish Lilee-Jean and the other children all the strength in the world to overcome their illness.
AVAILABLE ON ITUNES
http://itunes.apple.com/ca/album/pray-for-lj/id483258496?i=483258505
Here's a few links to provide information about Lilee-Jean, the band and BC Children's hospital.
http://pardonmystriptease.com/
http://www.bcchildrens.ca/default.htm
[youtube]http://www.youtube.com/watch?v=Swakuk8zdqg[/youtube]
[youtube]http://www.youtube.com/watch?v=rS-k112pFt8[/youtube]