Medical Needs Drive Partnership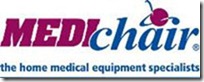 For Immediate Release
Medical Needs Drive Partnership
Victoria, March 13, 2012
Accent Inns, the local BC owned and operated hotel chain, and MEDIchair Home Healthcare stores across British Columbia are excited to announce a new partnership. It's a fact of life that sometimes we need to travel to attend specialized medical appointments, surgical procedures or to support our loved ones when they need it most. It's also true that more and more of us require additional mobility and healthcare products to help maintain our freedom and quality of life.
The new partnership allows Accent Inn guests easy access and cost savings for mobility and healthcare products while away from home, and both informs and assists MEDIchair clients regarding special rates for their medical travel. "When we started learning about the crossover needs of our guests and MEDIchair's clients, it became obvious that together we could assist our customers even more as partners," Mandy Farmer, President Accent Inns.
For many years now the five Accent Inn hotels in B.C. have been offering special rates to those people who are not travelling for a holiday, but because they must. The special medical rates provide some assistance to those folks at a time when they need as little stress as possible. Accent Inns, being centrally located in several of the main urban centers in B.C., offering relaxed, comfortable rooms and service has become a real practical option. Barrier free rooms suitable for wheelchairs are also available. It became very apparent that the two companies were often assisting many of the same customers.
MEDIchair has been providing home healthcare solutions for more than 25 years. Each of MEDIchair' s 18 B.C. locations has a wide selection of products that improve mobility, make home life more accessible, keep folks safe in the bathroom and provide a great selection of wheelchair accessible vehicles to keep you on the go. They also have a full line of home healthcare products from the most trusted manufacturers in the industry."Both companies have a deep rooted caring for their customers – so finding a way to add even more options for them, well, it's just the right thing to do", David Coulter, MEDIchair Victoria.
About Accent Inns:
The small local hotel chain, Accent Inns, is a BC owned and operated company based in Victoria, British Columbia, with hotels located in Victoria, Richmond, Burnaby, Kelowna and Kamloops. Accent Inns have developed a reputation for their accent on quality, reasonable rates and compassionate service.
About MEDIchair 'the home medical equipment specialists':
MEDIchair, a LifeMark Health Management company, is North America's largest and fastest growing Home Medical Equipment (HME) franchise company with stores from coast-to-coast in Canada. MEDIchair stores carry a comprehensive line of Home Medical Equipment products including wheelchairs, scooters, lift chairs, bathroom safety products, home accessibility solutionsand soft/disposable personal health care products such as incontinence supplies, wound care, compression, and bracing. These specialty products are designed to enhance the quality of life for people experiencing disabilities, injuries, surgeries, and aging. MEDIchair prides itself on providing caring, knowledgeable and highly trained home medical equipment (HME) consultants committed to finding the right home health care product solution for each customer. MEDIchair also promotes good health through its public education and awareness programs, and through its adherence to best practice management.
http://www.medichair.com/stores-british-columbia.php
Media Contacts:
John Espley, Accent Inns: (250) 360-1511 or [email protected]
Mike Pinnegar, MEDIchair: (778) 549-3880 or [email protected]