Motorcycle Friendly program meets biker touring needs
Chance to Go Hog Wild for Accent Inns' "Bike Love…All Revved Up" Program
July 10, 2013, Victoria, BC – Accent Inns has launched a chain-wide Motorcycle Friendly hotel program catering to motorcyclists , with improved overnight storage, bike wash stations, secure lock ups and easy to access laundry facilities. Though the B.C. based hotel chain has always been popular with cyclists and the "Bike Love" program, the addition of the "Bike Love…All Revved Up" program was suggested by Victoria general manager (and avid rider) Chris Knight as a means to improve motorcyclist holidays throughout British Columbia.
"Accent Inns already offers motorcycle friendly accommodations such as suite-specific, ground floor parking," says Knight. "My years of travelling with a motorcycle gave me the idea and Accent Inns' management really blew me away with their support. Upon completing the development of the program, we then did some initial outreach and connected with the Westcoast Ride to Live folks who annually ride in support of prostate cancer awareness and research."
Much to the Westcoast Motorcycle Ride to Live organizers' gratitude, Accent Inns supported the cause and hosted participants at its Victoria hotel. "Connecting with participants during the event showed me that expanding our popular bicycling-friendly program to motorcyclists is the right thing to do," said Knight.
Knight's suggestion was received enthusiastically by the whole Accent Inn's team. The resulting program was designed with specific value added features to meet motorcyclists' needs (at no additional cost) at all Accent Inn locations – in Victoria, Vancouver, Burnaby, Kamloops and Kelowna – to make the chain truly motorcycle-friendly:
  Secure parking for motorcycle via concrete eye bolt
  Heavy duty motorcycle friendly chain/lock combo
All weather bike covers with anti-scratch inside and heat resistant panels near exhaust
  Bike wash station, Rags available
Motorcyclists have responded with appreciation. "It's always nice to go someplace where you know your bike is going to be secure, and you have a hose, bucket
and rags available to clean all the bugs off after a long day's ride – it's a real bonus," says David Valentine, Westcoast Motorcycle Ride to Live Co-Chairman.[youtube]http://www.youtube.com/watch?v=z3xGXgBESkM&feature=share&list=UUJhwnEGgCBeUw7MrZeVlLLA[/youtube]
The motorcycle friendly accommodations have already earned glowing reviews for the new amenities geared to touring motorcyclists. A recent Tripadvisor review raved, "Spent the night at Kamloops Accent Inn. A bunch of us were there on a motorcycle
rally. The rooms were super clean and they didn't mind us sitting out in the yard enjoying the weather. Staff was extremely pleasant and offered us motorcycle covers, rags to clean, and locks for the bikes. Awesome service. Will be back for next years rally."This type of enthusiasm has spurred Accent Inns to create a cool "Bike Lover" sticker — surely soon to be seen on helmets across the province and beyond.
About Accent Inns
Accent Inns likes to describe themselves as Not your typical, stuffy hotel chain. Yes, they have modern, clean rooms, but they will also tell you where to go (in a good way). They will give you the down low on where the locals hang – the hot spots for shopping, dining and hitting the town. Oh yeah, they also like to mention that they are also a pint-sized, boastfully BC hotel chain with five locations; Victoria, Burnaby, Vancouver Airport (Richmond), Kelowna & Kamloops and each of them is a 2013 winner of the TripAdvisor "Certificate of Excellence." Stay local. Stay real.
Note to editors: Images and Bike Love sticker available upon request.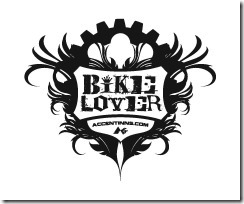 Media Contacts:
John Espley, Accent Inns: 250-360-1511, 250-213-9605 (cell) or [email protected]
Kate Rogers, Tartan Group: 604-880-1494 or [email protected]