Motorcycle Friendly Hotel Manager Races in the 46th Baja 1000 #5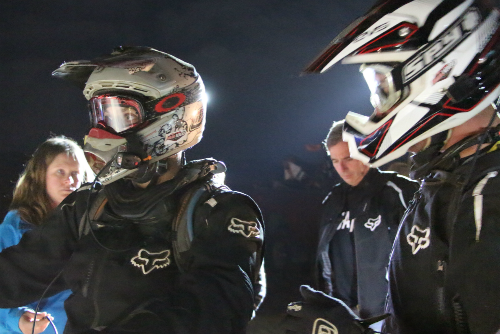 Our chase trucks start to meet up now as the 2 in the south head north and meet the west coast truck.  Around 8pm we all meet on the side of the road at race mile 670.  Paul is ready to get on the relay bike and does so around 930pm.  Mladen has had a good section.  A small mechanical problem when the fuel line cracked and the bike stopped but he was able to make the repair quickly with the tools he had.  The bike has been going for 22 hours straight now.  Pretty amazing that has been the only issue.
Things start to get a little dicey at this point in the race though.  We all have been up for a long time so you aren't quite as sharp and it's important to remember this whether driving a chase truck, on the bike or even standing near the course.
The most troubling news though came on race radio that the lead bike in the race, Kurt Caselli on the KTM, had crashed and been killed.  Kurt was the premier off road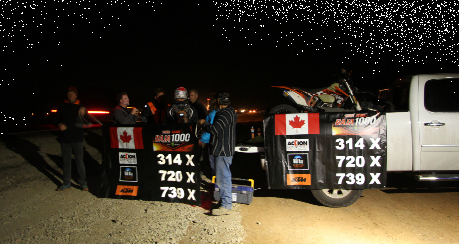 racer in all of North America and one of the best in the world.  Someone we all admired.  Initial reports were that a booby trap by local spectators had been placed on the course.  Later we would find out he actually hit an animal at roughly 110kph and was thrown from his bike off course.  As hard as the chase helicopter tried to find him ( it was refueling at the time of the crash ), it was too late by the time he was located and medical assistance arrived.  Rest in Peace Kurt.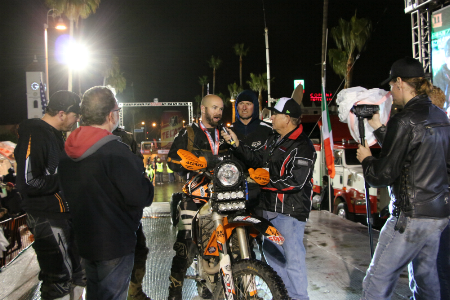 This was definitely a changing point for me in the event.  "Racing" didn't seem very important now.  I just really wanted to see my teammates get to the finish line safely.  With Paul on the relay bike heading toward race mile 800 where he would hand off to Jimmy for the last 80 miles, we waited at race mile 670 for Marc.  He had to be getting tired now.  It was pitch black and trophy trucks would be passing him.  As time went on we got more and more concerned but without any way to track him (his tracking device stopped working at race mile 525 ) we didn't know what was going on.  Finally sometime around midnight we see him coming into the pit area!  He is cold, his hands are basically seized in one position but hell no he isn't giving up!  We get him food and whatever else we can and back out he goes.  I have to say, I was concerned for him when he left but having ridden with him a lot in Baja, I know he is a machine and will find a way to make it.
The 3 chase trucks pack up and head to the finish line, a 3 hour drive or so.  We are hoping to make it there before the relay bike crosses the finish line.  Around 3am we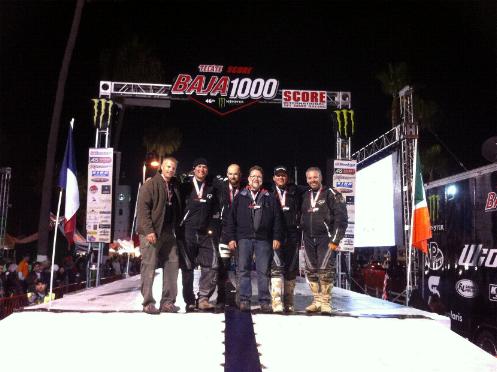 arrive.  Shortly after Paul shows up who rode the bike to race mile 800.  Jimmy is on the bike now, everything seems to be good.
Roughly 430am Jimmy comes around the corner and up on to the podium!  Relay bike has finished the race and somewhere between seriously pumped and exhausted we all climb up and celebrate!  Definitely a moment of joy and relief.  Celebration would consist of some beers and a big breakfast.  Sleep would have to come later.
We are waiting to hear from Shannon now, Marc's wife on his status.  She is at race mile 800.  We hear Marc is there and just making the final push towards the finish.  83 miles to go!  Just after noon he crosses the line.  36 hours on the bike, insane.
Other than Nick's unfortunate bike problem, as a team we end up accomplishing what we set out to do.  The relay bike finishes 6th in its class (Pro over 30 years old) exceeding our expectations.  Not bad for a group from Victoria BC. We really set out to finish the race, knowing how difficult just doing that would be.  All of the guys rode really well and took care of the machine, the most important part about racing in the Baja 1000.
Watch for a short video of the race and experiences next week February 27, 2014.
Chris Knight is the General Manager of the Accent Inn Victoria BC Hotel. An avid motorcycle rider/racer and one of the creators of Accent Inns motorcycle friendly hotel program.