UltraStar Charity Laser Tag Tournament
FOR IMMEDIATE RELEASE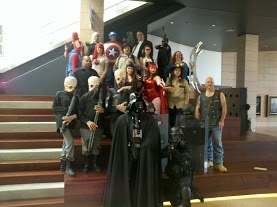 UltraStar Multi-tainment Center at Ak-Chin Circle and Comicon Fan Clubs Prepare for 2nd Annual Charity Laser Tag Tournament
Skewed and Reviewed, Phoenix Comicon, Phoenix Area Fan Clubs and UltraStar Multi-tainment Center at Ak-Chin Circle come together to raise money for "Kids Need to Read"  
MARICOPA, AZ (January 31, 201) – On Saturday April 12th, 2014, Super Hero, Movie and Science Fiction Fans will join Phoenix Comicon Fan Clubs at the UltraStar Multi-tainment Center at Ak-Chin Circle for the 2nd Annual Charity Laser Tag Tournament. Costumed characters, such as Captain America, X-Men Mutants, Star Wars, Star Trek and others will come together and battle in the Urban Arena Laser Tag, all for charity.
Registration will start at 9:30 am, with tournament taking place 10am to 2pm. Registration will be $10, ages 6 through adult, which includes entry into the elimination tournament and coupons for a future UltraStar visit. $5 will be donated to Kids Need to Read Charity which provides children's books to underfunded schools, libraries, and literacy programs.
UltraStar has again partnered with Skewed and Reviewed, a leading multi-media gaming and movie review site with radio syndication worldwide. Skewed and Reviewed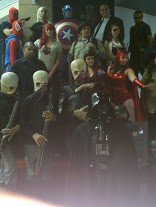 along with leading movie game, technology, and pop culture companies are supplying prizes for the charity event.
The UltraStar Multi-tainment Center at Ak-Chin Circle is an entertainment mecca approaching 165,000 square feet.  The center houses:
UltraStar Cinemas, a twelve screen state-of-the-art Pure Digital Cinema® with 3D capabilities, Star Class seating and D-BOX motion seats
Ten Pins Down, the most technologically advanced bowling center in the state
347 Grill,  American Continental Cuisine
Luxe Lounge, a sports themed bar for guests 21 and older
Urban Arena Laser Tag, a two story ultimate laser tag battleground
Play 'n Win Game Center, a redemption arcade for all ages
J Bar, a sophisticated escape from the normal movie fare
Cones Café, an ice cream and coffee café
Ak-Chin Amphitheater, a great venue to enjoy an outdoor show or event
Details on registration will be available soon and posted online at:  www.ultrastarakchin.com 
About Ak-Chin Indian Community:
The Ak-Chin Indian Community is nestled into the Santa Cruz Valley of Southern Arizona. The Community lies 58 miles south of Phoenix in the northwestern part of Pinal County.  Ak-Chin is an O'odham word translated to mean "mouth of the wash" or "place where the wash loses itself in the sand or ground." Ak-Chin has an enrollment of more than 947 tribal members and a land base of just over 22,000 acres.
About UltraStar Multi-tainment Center at Ak-Chin Circle:
The UltraStar Multi-tainment Center at Ak-Chin Circle, an enterprise of the Ak-Chin Community, is operated by California-based UltraStar Cinemas. UltraStar Cinemas is recognized for pioneering the digital age of cinema. They are the first theater group in the world to be fully equipped with Pure Digital Cinema® powered by DLP Cinema® technology in all of their locations. The UltraStar Multi-tainment Center at Ak-Chin Circle features "One stop, non-stop entertainment." Guests experience adventure, competition, entertainment and relaxation all conveniently located under one roof. The Multi-tainment Center features state-of-the-art digital theaters, bowling, dining, sports lounge, live entertainment, laser tag and arcade gaming as well as corporate and private event facilities.  It is located at 16000 Maricopa Rd., Maricopa, AZ www.ultrastarakchin.com
About Phoenix Comicon
Phoenix Comicon is the signature pop culture experience of the southwest. Comicon is presenting guests and programming for hobbyists by attracting the top segments of the comics, anime, sci-fi, film, TV, and gaming industries. Entering its eleventh year, Phoenix Comicon is expected to draw over 40,000 attendees to its May 23-26, 2013 convention held at the Phoenix Convention Center and Hyatt Regency in Downtown Phoenix. For more information, please go to http://www.phoenixcomicon.com.
About Skewed and Reviewed
Gareth Von Kallenbach founded Skewed and Reviewed in 2001 and it was one of the first sites to combine movie and gaming news, reviews, and information. The site has grown to a multi-media company which includes two sites, a quarterly magazine, a Skewedcast, and a web TV show as well as being the film and game site for the top rated BJ Shea Morning Experience and Geek Nation which originates from KISW FM and is syndicated worldwide. Gareth has contributed to over 60 publications around the world as a regular reviewer. Their second site, Skewednet, combines the best of all entertainment news form top sources.  Skewed and Reviewed magazine can be found at Barnes and Noble and has an office in Seattle, WA, and opened the new office in 2011 near Phoenix, AZ. The company also has regional reps in Southern California, Las Vegas, Florida, Europe, and the Northeast. Skewed and Reviewed contact: Gareth Von Kallenbach at [email protected]
Kids Need to Read
Kids Need to Read works to create a culture of reading for children by providing inspiring books to underfunded schools, libraries, and literacy programs across the United States, especially those serving disadvantaged children.  All children and adolescents will have access to quality books no matter their race, economic status, or capabilities. Further, our organization will provide inspiring programs to increase literacy rates and decrease dropout rates throughout the United States. These programs will be presented in a manner that will foster and uphold dignity and self-respect. We will consistently demonstrate to children and adolescents the need to read, as we believe literacy contributes to school and life success.  www.kidsneedtoread.org
Media Contact:  Christine Holtz
602-282-0202
Phoenix Marketing Associates
Garth von Kallenbach  Skewed & Reviewed