Motorcycle Friendly Hotel Manager Races in the 46th Baja 1000 #3
With a week or so to go till race day, the rest of the team showed up.  The adventure really got exciting when 5 of us went to pre run race mile 385 to 525.  The day started great as usual, until we entered 10 miles of 3 foot deep silt beds.  A fine sand like substance that just floats in the air, clogging and killing motors in cars and bikes.  At race mile 430, my bike decided it had had enough.  2pm and David and I are sitting in the desert with a broken bike, 80 miles from the nearest accessible road.  Another racer comes along and we ask him to let Mladen ( another one of our guys ahead ) know we are stuck.  A few hours later, Mladen shows up and we try for hours to figure the bike out.  Nothing works.The sun has now set and the coyotes have come to check us out.  Looks like we might be spending the night in the desert.  Mexico is nice and warm during the day but it gets cold overnight.  There isn't much to burn out there I tell you and if it does burn it burns fast!  We built a fire, continue trying to fix the bike and mull over how we are going to get out.  We could ditch the broken bike and ride out 2 up?  80 miles of brutal terrain.  No thanks.  We are hoping the other 2 guys in our party are out by now and coming up with a rescue plan ( if they even know we need help ).  Unfortunately on this day, we weren't carrying our satellite phones.  Lesson learned.  Around 11pm we see lights.  A racer in a buggy pulls up.  He has a satellite phone so we make a call to one of support team members at the motel we were staying at.  He answers but is a 3 hour drive from our chase truck driver so he has no idea what sort of rescue plan is in place.  He says he will get organized and start heading our way.
After eating the tuna and crackers the buggy guy gave us ( and some shots of tequila ) the 3 of us are getting pretty tired.  Sleeping proved difficult.  Either the fire would need more "wood" or the "animals" would wake us.  At one point, while still wearing my helmet, lying on the ground I feel something graze the back of my neck.  Half a sleep, I look to my right to see a scorpion cruising by, heading for one of the other guys…  Not exactly a restful night.
2am and we see lights.  It's Nick and Curtis ( our 2 other riders that were out front ).  After getting a flat tire, they rode out to civilization, heard we were stuck from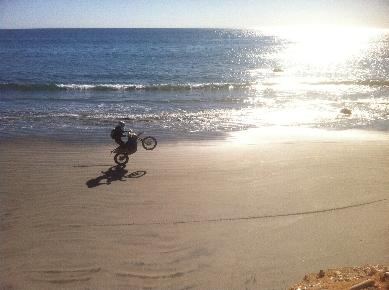 other racers on the course.  They refueled, put on as many jackets as they could, grabbed some tacos and proceeded to ride back in the course for the second time that day!  Now there were 5 of us out there sleeping in the desert.  We would wait for the sun to come up, then decide how to get everyone and the dead bike out.
630am, the sun is coming up.  We see a Quigley's 4×4 wheeled race van coming towards us.  These 4 guys from Pennsylvania stop to see if we need help.  Their van is stuffed full but they have a roof rack!  6 guys and a few minutes later we have lifted my dead bike up on top of the roof of the van and I squish into the cab.  Saved!  By noon we all have made it out to the paved road where 2 of our chase trucks and 4 pit crew members are waiting, wondering what the heck happened.  Baja happened.
I remember one of our guys saying after our adventure "can't wait to see what race day brings"….  In only a few days, we would find out.
Next installment of the Racing the 46th Baja 1000 comes out Thursday February 13, 2014
Chris Knight is the General Manager of the Accent Inn Victoria BC Hotel. An avid motorcycle rider/racer and one of the creators of Accent Inns motorcycle friendly hotel program.