Motorcycle Friendly Hotel Manager Races in the 46th Baja 1000 #2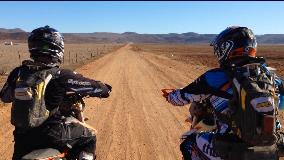 Pre running the course is so important for the race.  It allows you to see all the hazards before race day so you can ride your fastest when it matters.  The course also changes so much during the 2 weeks leading up to the race as you have 300 plus vehicles doing the same thing as you.  So nice sandy roads turn into torn up, whooped out, silt infested trails.  Good times.
Marc and I drove from Victoria BC to a small town called Catavina 8 hours south of San Diego in 3 days straight to start pre running.  Since we had the motorcycles and parts with us, flying out of the Vancouver Airport just wasn't an option this trip. We invited Craig along to help us as "chase truck driver" while we pre ran, his first trip south of the border.  The biggest hurtle racing the 1000 is the remoteness of the course.  The first day Craig would drop us off on the highway and we would have to ride 20 miles to get to the race course, around race mile 350.  An hour and a half later, he would meet us where the race course crossed the highway at race mile 390 so we could top up our fuel.  Fuel.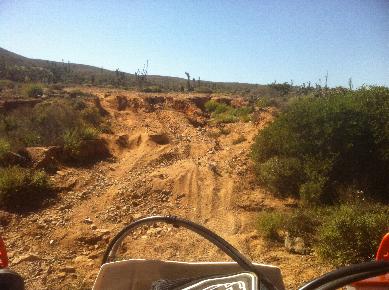 Another challenge in Baja.  There were many sections pre running where we would have to take extra bottles of fuel in our backpacks just to make it without running out.  Marc and I then had a 120 mile section of complete and utter nothing.  Beautiful desert, mountain passes, riding along the beaches on the pacific, not a soul around.  Our first day pre running in Mexico went without a hitch and we met Craig back in Catavina around race mile 510.  These days riding the motorcycle seem so simple, like nothing can go wrong.
Not all days go like that though.  Day 2 was going to be a bit different.  We started out with a 20 mile boulder infested section that just didn't seem to end.  Not very motorcycle friendly at all. Marc had an encounter with a newly formed "rain ditch" but was able to ride on.  Just makes you realize how quickly things can wrong when going speeds up to 130 kph.  We needed to survive the next 2 weeks "practicing" just to make it to the start line.  Slow and steady.
After having some challenges locating Craig at race mile 525 for a splash of fuel, Marc and I headed for the most remote section of the race course.  Race mile 525 to
670.  No towns, no fuel, no people, nothing…  The day went good until the last 30 miles.  Motorcycle issues for me but luckily a local rancher happened to come along on his way to town, which is an all-day affair for him.  We literally "tossed" my bike onto the back of his flat deck pickup and we started the long journey out, bike bouncing around and all.  What would have taken under an hour on my bike took almost 4 hours in his pickup.  Numerous times we got stuck, having to dig sand out or get 3 or 4 runs at hills but we made it, after dark all be it.  Marc and Craig were a bit concerned when I didn't show up but like most things in Baja, they just have a way of sorting themselves out in the end.  The rancher and his side kick were some of the friendliest people I met in Baja.  What first started out as a big problem for me became a truly memorable experience.
Motorcycle fixed, Marc and I rode days 3 and 4 without a hitch, covering 730 miles of the race course in 4 days.  These days were super important for Marc as he was racing the entire course solo so he needed to see every part of it at least once.  The first week down south had a bit of everything.  Adventure, long days on the bike with a good friend and the chance to meet some great people.  At the time, I didn't realize week 2 would be even more interesting….
Next installment of the Racing the 46th Baja 1000 comes out Thursday February 6th, 2014
Chris Knight is the General Manager of the Accent Inn Victoria BC Hotel.
An avid motorcycle rider/racer and one of the creators of Accent Inns motorcycle friendly hotel program.