Jurassic World vs Star Wars: Episode VII: Who Has More To Lose?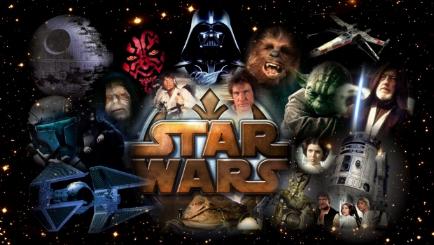 Although they will not be going head to head in the summer of 2015, both "Jurassic World", and "Star Wars: Episode VII" have huge expectations and pressures upon them.  "Jurassic World" is attempting to jump start the lucrative franchise for Universal and since "Jurassic Park 3" came out in 2001, there is some question if the audience for the franchise has faded. Director Colin Treverrow is an odd choice in my opinion has he has only done one film to date, "Safety Not Guaranteed", and has not worked with a big budget, advanced FX, 3D, and a studio and fandom watching his every move.
The film has six writers attached to it which is also cause for concern as for over a decade different drafts and ideas were considered, the most shocking was the use of dinosaurs in a military project. While this happens often in Hollywood, I do remember all the twists and turns "Alien 3" took with various stories and writers before many concepts were mashed into one story by the producers and derailed what had been a dominant franchise.
The film has Chris Pratt and Bryce Dallas Howard and rumors have Jeff Goldblum returning to the fold. Filming is set for New Orleans and Hawaii so we may well see a mix of jungle and urban settings for the new film and one rumored plot has it centers around a fully functioning theme park where a new species of dinosaur arrives and wrecks havoc.  My concern was that Universal wanted and up and coming director and one without too much experience so he could be controlled. This seemed to play out when production was halted last year and many staff members were fired. The rumor was that the studio was firmly establishing who was in charge and how things were going to be done, and even pushed the release date back a year to avoid needing to complete the film quickly to meet the original June 2014 date.
I am curious about the film as the advances in CGI alone should make this interesting as will filming it in 3D rather than using the lesser quality 3D conversion.
As big as "Jurassic World" may be, the new "Star Wars" films are light years bigger. Disney paid $4.4 billion to obtain the Lucasfilm franchises and companies so even before they were announced it was easy to imagine plenty of new films, shows, animated series, attractions, toys, and merchandise flooding the market. J.J. Abrams is a solid choice as director but some question if the success he had relaunching "Star Trek" with a hipper, younger edge and vibe is the best way to go.
Fans are still reeling from the issues they had with the Prequel trilogy and do not want more bad acting, paper thin characters, and an overabundance of FX to carry the way, they want what they loved with the original series.  Towards that end, Carrie Fisher, Mark Hamill, and Harrison Ford are all rumored to be returning and will be paired with a new and younger crop of allies and enemies who will help carry the franchise forward.
With three sequels and at least two stand-alone films coming, expectations are high and rumors are running wild. Academy Award winning writer Michael Arndt was removed from writing duties which Abrams and Producer Lawrence Kasdan took on, but one rumor has Arndt working on Episode 8 and that the switch in writers was to retool the script to give the classic heroes one last hurrah and keep the new characters in supporting roles instead of the other way around.
I think that Disney has more to lose here as aside from the tremendous cost they paid, they have several films, shows, attractions, and much of their business plan invested in "Star Wars" for the next 10-20 years. They cannot afford a film to bomb nor do they need another "Lone Ranger" or John Carter" that were slow to make back their investments.
Underperforming films tends to lead to a line of exits at a studio and few of the higher ups at Disney want to be the fall guy for a "Star Wars" failure.  In the end, I think Disney has the most to lose. Universal has their Jurassic Park attraction and if "Jurassic World" fails to deliver, they can move on to other projects. Disney on the other hand, has so much invested and planned around the success of the new film, they could be dealt a devastating and costly blow if the Force eludes them.
Our First Magazine of 2014 is due at the end of Feb. We are taking submissions.
Garth von Kallenbach  Skewed & Reviewed