My Journey West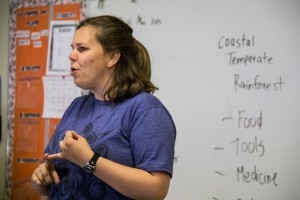 It took me ten years to make my way from Ontario to British Columbia. During that time, I saw a lot of our beautiful country and worked with and learned alongside some incredible students and colleagues. They taught me the value of building connections and reconnecting to the land. The journey took me in many directions, but eventually brought me to my adopted home, Victoria, B.C.
In 2003, I was—like so many recent graduates—at a loss for what to do with my Environmental Studies degree. On a whim, I took a job as a park interpreter and educator at my local conservation authority in southern Ontario. It was a decision that set me on a long path to becoming an environmental educator with one of the oldest environmental organizations in British Columbia—Sierra Club BC.
In my new position at Crawford Lake Conservation Area I helped to educate visitors about the many activities and learning opportunities at this incredible archaeological site. The site held a reconstructed longhouse village, and a rare meromictic lake. I began to quickly discover that hands on activities were some of the most engaging for visitors. Certainly, one of the most popular programs I taught was called "Life in the Longhouse". It was an opportunity for park visitors to learn about life in a 15th century traditional Iroquoian longhouse village. During the program, I took small groups on a tour of the longhouse, teaching them everything from traditional fire starting skills to how deer could be harvested to make clothes and tools.
This was my first glimpse into the power of experiential education. The experience at Crawford Lake sparked my love for and interest in environmental education.
Two years later, I headed west to begin a certificate in ecological education from the University of Saskatchewan. The program deepened my knowledge of outdoor education, and during the summers I travelled with my cohort across the provinces of Saskatchewan and Alberta. We learned hands-on skills for teaching experiential education, spending our time backpacking, canoeing, harvesting wild edibles, horseback riding, mountain climbing and camping under the wide open prairie sky. In the winter we lived in a cabin in Northern Saskatchewan, worked on our survival skills and went snowshoeing, cross-country skiing and dog sledding.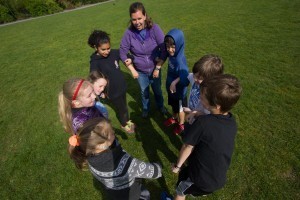 These experiences changed me.  Upon returning to life in the city, I discovered that so many people have had their connection to the natural world disrupted. We spend our days writing e-mails, watching television, or just generally staring at screens, rather than collecting food or canoeing across a lake. My time in Alberta and Saskatchewan taught me how valuable it is to stop and reconnect with our sense of place. I was inspired to bring that message to Canadians, to help connect people to the world beyond their screens, to the environments that surround them.
With this new-found excitement for connecting people to place, I started my journey north. I traveled to remote First Nations' communities to deliver hands-on science programs. Over six months, I met many individuals who reminded me that if we face our problems together, as a community, that none will seem quite so insurmountable. I knew there much for me to learn in this part of Canada so when I was presented with an opportunity to teach grade one in a remote Cree community in Northern Québec, I decided to embrace this new endeavour.
In Québec, my students became my inspiration. I learned the joy of waking up to the sunshine on a clear crisp morning (minus 40 Celsius) and setting off on a snowshoe adventure across the river. I learned the best places and times to watch the northern lights dance across the sky. But the best moments include teaching my students how to make maple syrup, reading and telling stories with them, and making playdough that later ended up all over the carpet and walls.
The classroom was a new experience for me, but I rode the highs and lows as best as I could. My proudest moment came on Earth Day, when my students were inspired to clean up garbage from our school property. Through all the triumphs and challenges, I always knew that getting outside and connecting with nature was going to enable my students and myself to learn deeply how we are a part of all living things and have a responsibility to protect the nature that supports us.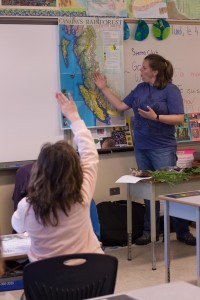 When I finally left the community, I knew that I wanted to continue focusing on environmental education. I didn't know what this would look like, so to help me find my path, I decided reconnect with my sense of place. I went home to southern Ontario and spent the summer reconnecting with my favorite places, people and my dog, Lucie. During my time home, I was reminded by some family friends of a dream I had had for years—to go and live in beautiful British Columbia. There is just something incredibly special about the mountains and ocean that I had always known I didn't want to live without.
So, with their words in mind, when an opportunity came up to work for Sierra Club BC, I jumped at the opportunity.
I've spent the past 18 months working as the Environmental Educator for Sierra Club BC, building and deepening a sense of place and connection alongside the students and teachers I meet each week. The work continues to fulfill and enrich me and every day I remember the power of connecting with place.
Kirsten is an environmental educator with Sierra Club BC. She gets to travel all across British Columbia meeting thousands of students throughout the year. Accent Inns generously provides Kirsten's accommodation when she is teaching in Burnaby or Kelowna.
To read more about Kirsten's experiences as an environmental educator, visit Sierra Club BC.
Kirsten Dallimore is an environmental educator with Sierra Club BC.