Victoria – A Kayaker's Paradise!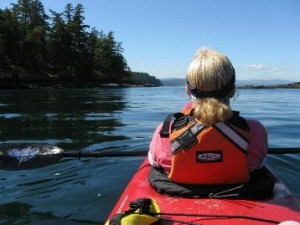 If you love paddling then you really must visit Victoria, BC, it's an absolutely amazing place to kayak. I could write a book about all the great places you can paddle to and around, but in this post I'll just give you a few of the very best places – those can't miss paddles – to tempt you to come and see us here in Lotus land.
Today we'll focus on ocean kayaking – don't worry, I'm not talking open ocean, just saltwater rather than fresh. There are however many lakes worth paddling around if that's what turns your oar – perhaps I'll do a post on them at a later date.
Oh, and if you're coming from out of town try staying at either the Accent Inn on Blanshard Street, or Hotel Zed on Douglas, both have guest laundries so you can wash all your gear after a hard day's paddling.
Okay let's look at my 5 favourite 'close-to-downtown' paddles and tours.
THE INNER HARBOUR – If you've not done it before, a paddle around the inner harbour has got to be the place to start. Seeing Victoria from the perspective of a kayak is totally cool – your backdrop includes the British Columbia Parliament Buildings known to locals as the 'Ledge' and the world famous Empress Hotel. But that's not all, this is one busy harbor and you'll see floatplanes, the huge Coho ferry, the super fast Clipper ferry, the tiny and very cute harbor ferries, massive private yachts, sailboats, tugs, all against the backdrop of downtown Victoria and fabulous hotels and resorts. A favorite company to rent Kayaks and book Kayak tours is Ocean River Sports. A word of warning: if you are kayaking without a guide do not cross the harbor as it is an active marine airport with hundreds of floatplanes landing and taking off daily. The key (and the law) is to stay close to the shoreline at all times.
FISHERMAN'S WHARF – Just outside the inner harbor is this eclectic mix of fishing vessels, colourful float homes, restaurants and boutique stores. Moor your kayak and take a wander around; if it's lunchtime Barb's fish and chips is world-famous and a must stop. Watch out for friendly seals, eagles, otters and other wildlife.
GORGE WATERWAY – is a six-kilometer narrow tidal inlet that connects Victoria Harbour to Portage Inlet. The "Gorge," officially the stretch of water between the Selkirk Trestle and Craigflower Bridge (at the head of the Portage Inlet) is a beautiful, calm piece of water. One thing to watch for though is the narrows under Tillicum Bridge which can be dangerous. You might want to get advice from your kayak company and unless you are a highly skilled paddler pass through during slack tide. And remember to check if you are heading back through later what the tide will be doing.
PORTAGE INLET – pass through the Gorge Waterway and under the Craigflower Bridge and you'll come to a shallow basin fed by fresh water from Craigflower and Colquitz creeks, which are important salmon streams. This tidal estuary is part of a federal migratory bird sanctuary. I love to kayak this inlet and some of the tributaries off it. Unless it's particularly windy the water is usually calm and there's lots of wildlife and interesting oceanfront properties to keep you occupied.
INNER HARBOUR AND ESQUIMALT HARBOUR – Ocean River Sports offers a wonderful tour which circumnavigates the Inner Harbour and Esquimalt Harbour. This tour takes 6.5 hours and is a fascinating mix of natural beauty, history, industry and even military. It's a 9-nautical-mile round trip and some of the highlights include Fisgard Lighthouse and Fort Rodd Hill National Historic Sites and naval ships at the Canadian Forces Naval Base. It takes in the Gorge Waterway and Portage Inlet. A great all-round day trip.
There are lots more places to paddle in and around Victoria and many more tours including day and overnight trips to Discovery Island situated off Oak Bay. There's some stunning paddling around Sidney-by-the Sea and just about any part of the shoreline on this southern tip of Vancouver Island will offer beautiful scenery, incredible wildlife, and the chance to see amazing waterfront properties.
Reception staff at Accent Inns and Hotel Zed can provide information on other interesting paddles and provide information on where to rent kayaks or book a tour. A good place to start is Ocean River Sports (oceanriver.com). They have over 35-years of experience and are known as one of the best paddlesports outfitters and tour providers in North America.
Mike Wicks
Blue Beetle Creative