HUB Cycling Staff Retreat to Accent Inns, Victoria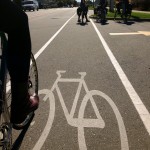 HUB Cycling is a charitable non-profit society that works to get more people cycling for transportation, more often. We are based in Metro Vancouver where we provide education in schools, community centres and workplaces, action to make cycling conditions better, and events like Bike to Work Week.
This fall, our fantastic staff team decided we'd like to ride across the region, catch a ferry and check out some of the impressive cycling infrastructure headed into Victoria. We were welcomed with open arms to stay at the bike friendly Accent Inns.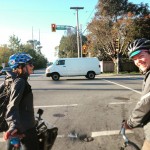 Members of the HUB team started from different locations in Vancouver and met up along the way. One group took the Canada Line bridge with its protected bikeway and scenic view of the Fraser River, then headed south through Richmond to catch the bike shuttle at the Massey Tunnel. The shuttle runs once an hour and there is decent signage to find the van with bike trailer, where the driver was very helpful in loading our bikes up. A quick drive through the tunnel later we were back on our bikes and riding through some lovely farm lands in Delta.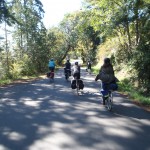 One person took the longer route from Vancouver through Burnaby and over the Queensborough and Alex Fraser Bridges to get to Delta. One person had to drive to the ferry with his bike because of a meeting in Langley. Another person popped her bike on the Canada Line in Vancouver, switched it to the bus bike rack at Bridgeport, and then arrived and met the rest of us at the Tsawwassen ferry terminal.  We made all our timing points and had enough time to grab a coffee and muffin before boarding.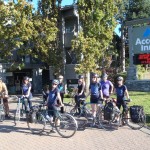 During the boat ride, we were introduced to our next activity – a photo scavenger hunt – while we rode from Swartz Bay to Victoria. We were tasked in teams with finding bike-related scenes, signs and situations and documenting them to win a prize. Disembarking from the ferry first, we pedaled up the ferry causeway and quickly hopped on the Lochside Trail, which is completely separate from traffic but parallel to the highway most of the way, making it very direct to get to the Galloping Goose paved trail right into Victoria.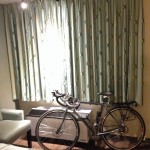 With a sunny lunch stop in Sidney, and some hilarious photo scavenger hunt finds, we rolled into the Accent Inns parking lot all smiles and easily kept rolling our bikes right into our rooms!  (love that feature). Accent Inns also had bike wash supplies, repair tools and laundry if we needed it.
We rewarded ourselves with a delicious dinner downtown, a short bike ride away, and slept soundly after our day of riding.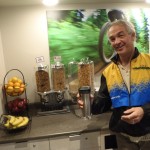 After a handy continental breakfast the next morning, Accent Inns had a room ready for us to do our professional development sessions. Having learned lots and refuelled with snacks, we took to our bikes again for the ride back to the ferry.
We enjoyed the pigs, pumpkins and parks we went through, and the ocean views peppered along the way. We rolled into the ferry terminal on time and got the new weekday discounted fares plus bikes free with our BC Ferries Experience card!
We found the ferries' newly installed additional bike racks, which we filled up with our teams' rides and headed up to the half priced half buffet on board: guilt-free desserts galore!
Back on the mainland we split into different groups that took a combination of bus-bike, all-bikes, and car-bike to finish the return journey. With great weather, a keen
team, and a welcoming place to have our overnight retreat, we couldn't have asked for m ore. Thanks Accent Inns!