Hotel Room Feast
I like to think of myself as a savvy traveller – I look for a good sized, clean and comfortable room at a good price and if I can get a suite with a kitchen, or kitchenette all the better. That's where Accent Inns score big-time; they're like a mini home-from-home where I can rustle up some food. Whether I'm away on business, or pleasure, it's no fun eating out every night – the novelty soon wears off and the cost these days can be exorbitant. So, eating in your room can save a few bucks and also be very rewarding – but how do you make it special?
Here's what my wife and I do quite often when we're away and look on it as a very special treat. One word of warning, this is not a bargain basement meal, but it will cost a lot less than eating out – and there's usually enough for at least lunch the next day. So, get ready for a feast while you relax in your Accent Inns' suite.
First, ask at the front desk for the location of the closest, quality, grocery store, preferably a Save-on-Foods, so I can use my MORE card. Once there, look for their rotisserie chicken; this delectable treat only costs between $8 and $11 and one will serve at least four people as part of my hotel room feast. If you are vegetarian don't stop reading, there's still plenty of good stuff if you leave out the meat.
Now, pick up a fresh baguette and head for the deli. At the deli counter you will be faced with a cornucopia of goodies that you probably consider too expensive for everyday meals; in this case however you can rationalize spending a little more because without doubt it will be less expensive than eating out and infinitely better!
At the deli counter look for the pre-made salads and choose potato, pasta, bean, couscous, quinoa, caesar, coleslaw, olive, tomato or whatever takes your fancy – choose several – go mad. Then, get a nice piece of brie, camembert, or Saltspring Island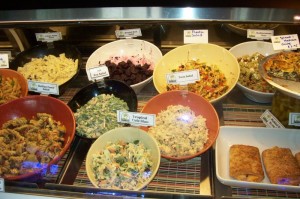 goat cheese and add a jar of delicious red pepper jelly to your basket; take my word for it, it goes so well with cheese.
Again if you're not vegetarian and you'd like to have a starter before your main course chicken, put together a small platter of sliced meats; salami, prosciutto, capicola, soppressata, mortadella, pastrami – you'll be spoilt for choice. Just add some tomatoes and a piece of the baguette and you're eating a European picnic in your room.
Next, treat yourself to a few chips and/or some of those specialty crackers – hey no one said this was a healthy treat. Okay let's be a little healthy – go to the produce section and pick up a small mixed platter of melon and pineapple or perhaps some raspberries – but then you'll need ice cream. Only you will know when to stop!
The resulting feast will be one to remember, it's something you'll be unlikely to do at home, but you can certainly justify it when in your Accent Inns suite. Kick-back turn on the television and catch up on your favourite program; or us the free WiFi and log-on to your Netflix account and watch a movie on your laptop or tablet – it doesn't get better than that in my book!
Tips: Find a bird that doesn't look as if it's been steaming under the plastic dome for too long, or ask for one straight from the rotisserie. Plus, if you have a choice of stores it can be worth going to the higher quality one (or a whole food store) for your 'feast' ingredients.
Use the refrigerator in you Accent Inns room to keep the remains of your 'feast' fresh and if you have some baguette left you'll have the most incredible sandwich ingredients for lunch the next day.
Mike Wicks,
Douglas, YAM and Salt Magazines