Governor General's Caring Canadian Award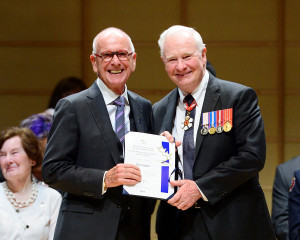 Accent Inns founder, Terry Farmer, wins prestigious Governor General's Caring Canadian Award
After handing over the reins of the family business, Accent Inns and Hotel Zed, to his daughter Mandy Farmer in 2008, some might have expected Terry Farmer would move on to a relaxing retirement. That however, was not the case.
Thanks to his boundless energy and enthusiasm, Terry has continued to dedicate time and effort around town determined to make Victoria BC an even better place.
For over 30 years, he has rallied the community and solicited companies to support local sport, educational and charitable endeavors.
Although he often works behind the scene, Terry Farmer was once again in the spotlight on March 4, 2016 when he was awarded The Governor General's Caring Canadian Award by his Excellency the Right Honourable David Johnston, Governor General of Canada in Vancouver.
Created in 1995, the Governor General's Caring Canadian Award recognizes living Canadians and permanent residents who have made a significant, sustained, or unpaid contribution to their community, in Canada or abroad. This award highlights the true core of Canadian values, setting an example for compassion and engagement within communities.
Recognized for his extraordinary work as director of the Pacifica Housing Advisory Association, an organization that provides housing for low-income families, individuals with special needs, or adults at risk of becoming homeless, and his ability to procure funds to upgrade the 75-year-old YMCA sports centre while honorary chair of Camp Thunderbird, Farmer truly cares about making his city a better place for everyone.