How To Eat Breakfast In Your PJs
First of all, I need to make something perfectly clear. I DO NOT COOK! The only reason that I have a kitchen is that it came with the house. It is full of cooking machines that simply confuse me. So, given this information, you may wonder why I am telling you about the kitchenettes at Accent Inns.
Well – I actually like to book a room with a kitchenette when I travel. Not because I am planning to create gourmet meals in my room BUT because I like to have fresh milk for my coffee, yoghurt for my breakfast and occasionally I like to make toast and fry an egg. In fact, I prefer to drink my coffee and eat my breakfast in my room while still in my PJs.
As well, I am often exhausted after a day of working or sightseeing and I just want to heat something up and veg out in front of the TV. The extra 10.00 per night is not much more than that cup of fancy coffee that I would indulge in if visiting a coffee shop in the morning. All Accent Inns have plenty of kitchenette units with fridge, microwave, stovetop, dishes and cooking utensils available. Give one a try the next time you are staying with us.
"I eat my breakfast in my room while still in my PJs"
And speaking of which, if you are planning to stay with us for an extended period of time, ask about our weekly rates – offered for stays of 7 nights or more. The rates are so amazing that you might even want to upgrade to a one bedroom suite for a fraction of what it would ordinarily cost. Even if you're not staying for a long period, our rates are so reasonable that a one bedroom suite is always affordable and gives you that little bit of extra room to spread out.
Of course, I also don't especially like to do laundry either but I do like to have a guest laundry available just in case I spill something on my favourite top or get muddy while hiking in some of our amazing B.C. parks. Accent Inn also fits that requirement with laundry facilities at all five of our locations.
For those of you who think that the kitchen may be a bit too much work, I'd like to share a couple of hints/recipes that work well in our kitchenettes. If you make homemade spaghetti sauce, just freeze in advance and place in a small cooler while travelling. It will help keep other things cool and will be easy to finish thawing or simply heat up in your room along with your favourite pasta.
Or – Just pack these items with you or drop by one of the grocery stores located to close to our hotels and you'll have an almost gourmet meal in no time
Welsh Rarebit (a favourite of Helen Wright on our Sales Team)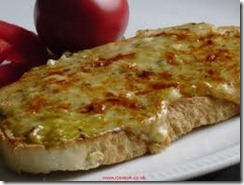 Cheese Sauce:
¼ cup beer
1 tbsp butter
1 tsp dry mustard
Pinch of salt and cayenne pepper
½ lb grated old cheddar cheese
1 egg slightly beaten
4 thick slices of French bread
4 slices of ham
4 slices tomato
Mix cheese sauce in a pot over low heat on the stovetop. Pour over toasted bread, ham and tomatoes. Wash down with the remaining beer
So bring the family. Bring some groceries. Bring your pet. Bring your bike. And stay awhile at Accent Inns in the comfort of a home away from home.
Karen England, Regional Sales Manager