Charities Need You in The Summer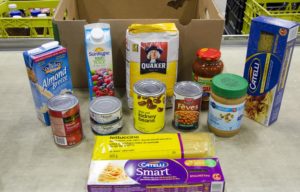 I saw a report in my newspaper the other day stating that the local food bank was running out of supplies; as often happens when you are alerted to something, I then noticed a national report online that also spoke of mid-summer being a tough time for charities in general.
As Accent Inns is a supporter of the Salvation Army, I gave Pat Humble, their Community Ministries Director for BC, a call. I was amazed to discover that they give out food hampers every day of the year – on average about 20 a day, but often during busy periods that can increase to 50 or more. At Christmas, the Salvation Army hands upwards of 3,000 hampers in Victoria thanks in part to the Times Colonist newspaper's Christmas Fund and from supporters like the Accent Inns hotel chain. They also send kids to camp, provide backpacks full of school supplies and give computer and lifestyle classes.
According to the interim executive director of the Mustard Seed food bank in Victoria, they see an incredible 60% of their donations occurring in November and December. Obviously charities are grateful for donations whenever they come in but the drop during the summer months can be very difficult, especially for those organization giving out food because that's when families are often under the most pressure.
During the summer months, when children are home from school, families have to come up with hundreds of additional meals, just when many of us are on vacation, enjoying the sun, and not necessarily thinking about making donations.
This results in a perfect storm – need spikes as donations dry up like stream beds, leaving people high and dry.
It's not just food donations that suffer a drought, financial contributions drop – heck even blood banks see a drop in donors!
So, before you head out to lay by a pool at the Accent Inns hotel in Kamloops or Kelowna spare a few moments to take a few items down to your local food bank, or if you're really busy packing perhaps go online and make a donation. I was checking out what food banks really need at this time of year and the number one item seems to be peanut butter – go figure, all those kids eh? Other items they need include canned fruit, vegetables, fish, meat, soup and pasta, rice and oatmeal.
So, don't wait until Thanksgiving, or Christmas – the need is now!
The Salvation Army is an international Christian organization that began its work in Canada in 1882 and has grown to become the largest non-government direct provider of social services in BC and in Canada. The Salvation Army gives hope and support everyday in more than 120 countries. For Victoria check out: http://sashcf.com. Nationally: http://www.salvationarmy.ca
For Mustard Seed in Victoria, visit: https://mustardseed.ca/donate-to-the-mustard-seed/.
Mike Wicks
Blue Beetle Creative