Chargers WVB sweep Royals to remain undefeated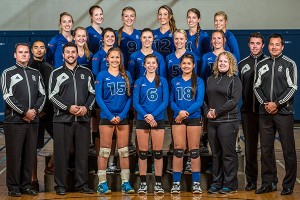 The Camosun Chargers women's volleyball team secured their second consecutive sweep of the season in New Westminster last weekend with their back to back victories over the Douglas College Royals. The Chargers remain undefeated heading into Week 3 of PACWEST competition and the squad is tied for first place with the University of the Fraser Valley Cascades.
In Friday's match, Camosun was quick to the kill, defeating the Royals in straight sets (25-16, 25-17, 25-19). Veteran players Hilary Graham and Morgan Marshall led the charge with 12 points apiece, while third-year middle Lainey Jantzi contributed 8.
"Douglas College and their New Westminster campus gym have proven to be a tough match-up for us historically," comments Chargers Women's Volleyball Head Coach Chris Dahl. "This year's Douglas program is full of new faces and once again they prove to be a formidable opponent. Hilary Graham got off to a quick start in the match and our fifth year setter Erika Sheen established the tempo of our offence. We've been working hard at this in training and feel like we're starting to zero in on consistent execution and the connection between our attackers and setters is improving."
In Saturday's four-set victory (23-25, 25-22, 25-13, 25-18), Camosun appeared to be more experimental with their plays, proving they could get the job done in a variety of ways.
"Our opening weekend sweep of VIU was highlighted by strong performances from Erika Morris on the right side and I felt our middles did a fantastic job," states Coach Dahl. "This weekend, we continued to see those positions produce but also had our left side assert itself. Our passing dropped off pace a little and as a result Hilary Graham and Kaelyn Parmelee saw increased volume. It might not be the plan, but matches don't always play out as designed. It's great to see that we have the ability and the depth of talent to navigate matches in a variety of ways."
Hilary Graham led the team with 18 points on Saturday (15 kills, 2 blocks 1 ace). Kaelyn Parmelee had 14 (11 kills 1 block 2 aces) and Morgan Marshall had 11 (8 kills 1 block 2 aces).
In men's action, the Chargers took two defeats that included a scrappy four-set loss on Friday (25-19, 25-19, 15-25, 25-22) and a riveting battle that went to five on Saturday (25-12, 24-26, 25-22, 22-25, 15-12). With a record of 1-3, the Chargers currently stand fifth in the conference.
"We are getting closer to finding line-ups that work as evidenced by our five-set match against the powerful Douglas College," states Chargers Men's Head Coach Charles Parkinson. "Jeremy Finn has really stepped up his game and the Chargers Co-captain scored more than 20 points on Saturday. Equally as impressive has been Alex Sadowski, who always makes his presence felt on the court, and lefty Rian Plante who has had two very impressive weekends for the Chargers. Of course, the offense could not run without a great quarterback and Vitor Macedo consistently delivers the ball to the right place for his attackers."
This weekend, the Chargers volleyball teams take on the Columbia Bible College Bearcats in Victoria at PISE.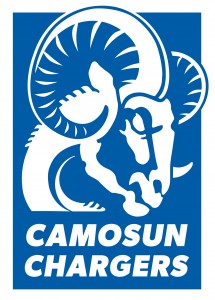 "CBC has been a quality team over the past few years, medalling in the provincial championships and representing our conference at Nationals," reports Coach Parkinson. "While some of their best players have graduated, they always find new talent and although they are in a bit of a rebuilding phase they are always a dangerous team. Leigh Goosen remains their big threat in the middle and is lethal on a perfect pass and set. Anchoring the right side is last year's star rooking Brendan Folkerts whose consistency belies his short time in the league. Success this weekend will be a function of accurate passing so our setters can achieve isolations on offense. Defense has been a high point for this season's team and coupled with tough serving against CBC should put us in a good position to win the match."
Meanwhile, the Chargers women will be working hard to maintain their winning streak with the home court advantage on their side.
"We're looking forward to another home weekend," says Coach Dahl. "Our young local athletes are doing great things in training. Megan Beckett is proving to be a force to be reckoned with at the net. Jasmine Strandlund is picking up the nuances of the offence while continuing to do what she does so well from the setter position… which is compete and find opportunities for success. Claire Ash has been on the sideline with injury of late, but we're looking forward to her return in the coming weeks. After a year away from the program she's come back stronger than ever."
Coach Dahl notes, "Columbia Bible College is only one season removed from a 2nd place finish in the PACWEST and an appearance at Nationals. They are a well-coached program that will compete and adjust. I suppose our job is to continue to assert ourselves with a style of play that is sharp and places a lot of pressure on our opposition."
Catch the Chargers this weekend at the Pacific Institute for Sport Excellence
Friday, October 31           Women 6pm; Men 8pm
Saturday, November 1 Women 1pm; Men 3pm.
Or watch the action live on SportsCanadaTV.
Bonita Joe | Marketing & Communications
Camosun College Chargers Athletics
Accent Inns is a proud sponsor of the Camosun Chargers