Help our BC Hotels Support The Royal Canadian Legion

Wear a poppy and help us support the efforts of The Royal Canadian Legion.
For every guest wearing a poppy on November 10 and 11, 2014 when checking into one of our five BC hotel locations, Accent Inns will make a
$5 donation  to the Royal Canadian Legion BC/Yukon Command's Poppy Campaign.
"Accent Inns continues to recognize the great sacrifices made by our fallen heroes, veterans and active personnel. We are very proud of the incredible work that the Royal Canadian Legion does in our communities," says Mandy Farmer, President & CEO of Accent Inns.    
The Royal Canadian Legions Poppy Campaign commences the last Friday in October and continues to the end of the day November 11th, Remembrance Day. Legion Branches throughout BC & the Yukon organize the annual Poppy Campaign in their respective areas. All donations are redirected to support programs and services for veterans and their families. Read more about the Legion's Poppy Funds here.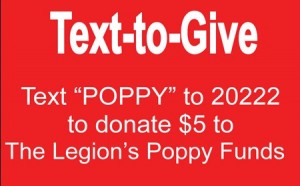 Not staying at an Accent Inn during our Poppy Campaign promotion? Staying with us but want to give even more?  The Royal Canadian Legion has developed another easy way you can donate with their Text-To-Give option.
The poppy is a global symbol for remembrance of those who died for us in order to provide us with the freedoms we enjoy today. The poppy was one of the only things to survive in Flanders Field, one of the main sites during the First World War. It brought a sense of life, hope and reassurance to the soldiers that were still fighting. The poppy is now worn every November to commemorate those who sacrificed their lives during war as well as to honour those who still serve in our Forces today. Remembrance Day is observed on the 11th hour of the 11th day of the 11th month, the day in 1918 when the guns fell silent, marking the end of the First World War.
So remember, this November wear a poppy and join Accent Inns in supporting
The Royal Canadian Legion BC/Yukon Command.