Canning takes Canadian National Sprint Challenge
***FOR IMMEDIATE RELEASE***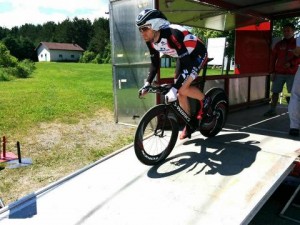 And Wins Entry in Pro Challenge Race in Quebec
Lac Megantic, QC – Cody Canning of Victoria's Accent Inns/Russ Hay's Cycling Team p/b Scotiabank took a huge win in the Elite men's Challenge Sprint, the final event of the 2014 Global Relay Cycling Canada Road Championships that wrapped up on Sunday June 29. The Challenge Sprint event is a competition over a one-kilometre course, organized into heats of four racers each. The top two finishers in each knockout heat move on to the next round until the winner is determined in the final showdown.
Cody handily won all three of his heats ahead of Canada's top sprinters, and secured a coveted berth in the Challenge Sprint Pro Event at the Grand Prix Cycliste in Quebec on September 12, which is normally reserved for Top North American and European Professional Racers.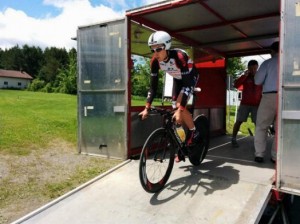 Link to full results: http://goo.gl/HG9Yh9
Earlier in the week, a contingent of racers from Victoria' Top Cycling Team accompanied Cody to attend the Canadian National Championships from June 26 to June 29 with the goal of a podium finish.
Thursday's Individual Time Trial on June 26 did not see Victoria's Time Trial star, Curtis Dearden successfully defend his championship title, especially with the return of World Tour Professional and Giro D'Italia stage winner, Svein Tuft, who captured his record 9th National title, with over a 2 minute advantage over his next rival.  Curtis had to settle for 9th place, a remarkable feat considering his challenges from serious injury and illness only months prior.  Accent Inns/Russ Hay's p/b Scotiabank's Jordan Cheyne, was the team's top finisher and managed a very respectable 6th place among some of Canada's top pro's.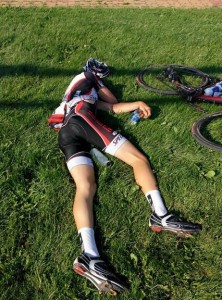 Saturday's 179km Road Race saw Svein Tuft once again decimate the peloton with an early attack, forcing a brutal pace in the chase groups, which reduced a field of 129 racers, to a final list of 39 finishers.  Svein was able to race alone for 120km of the race, and take the win in convincing fashion.  Among the finishers included Victoria's Dylan Cunningham and Vancouver's Dylan Davies, who struggled to complete the race within the time limit as hot weather and ultra fast racing had taken its toll.
Sunday's Criterium in downtown Lac Megantic featured a 33-lap circuit on a 1.3km course that saw a 4-rider break stay away until the end. Rémi Pelletier-Roy from Garneau-Quebecor took the win, Ryan Macdonald of Vancouver's Team H&R Block claimed 2nd and Dustin Andrews of Trek Red Truck Racing third. AI/RH racer, Cody Canning was the team's highest finisher at 11th place.
The team flies back to BC on Monday June 30, tired but satisfied, and will be setting its sights on the BC Superweek racing events, starting with the Tour de Delta on July 4-6.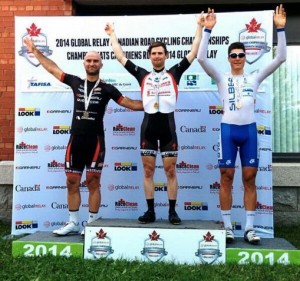 Jon Watkin General Manager Accent Inns / Russ Hay's the Bicycle Shop p/b Scotiabank Cycling Team www.russhaysracing.com