Keep Moving – Cycling with Arthritis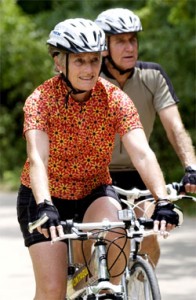 Our newest community partners, The Arthritis Society of BC has kindly prepared this "cycling with Arthritis" blog post. As you head out on those summer bike trips, have a read and see if we can help make your vacation just a little more pain free (along with our bike friendly hotel rooms that is…)
With the arrival of summer and longer, warmer days, people naturally think about being outside more. Cycling is the perfect way to incorporate more movement into your daily routine during the milder weather. A low-impact activity, cycling can promote fitness and fun for many people with arthritis. It provides an excellent cardiovascular workout, and also strengthens muscles around your joints.
Where to start if you haven't done this for a while? Choose the right bike for you. Visit a good bike shop and "try on" and test-drive bikes for fit, style, shape and size. Make sure it is comfortable! A step through (or girl's bike) can be a good option, and you should be able to stand with stability and comfort with flat feet on the ground while the top bar of the frame is underneath you.
Then think about what kind of riding you would like to do. For most people with arthritis, riding will be about general fitness and enjoying the activity. This will influence the type of bike you choose. A comfort bike, or "cruiser" is great for flat, smooth terrain. A mountain bike has wider tires with a thicker frame, and the suspension helps to cushion road bumps. A hybrid bike- which may be a good choice for casual riding in parks – has upright handle bars, and a recumbent bike can be quite comfortable, but may take some time to get used to. Think of sitting in a reclining chair and pedalling that way.
If your knees are affected, you may want to consider adding an electric motor to reduce the additional pressure when pushing hard up hill. Indoor riding on a stationary bike can be a great way to get exercise in a safe, controlled atmosphere. Both upright and recumbent stationary bikes are available!
Always ride with a helmet! Padded gloves, saddle and even bike shorts can make a substantial difference in your comfort level. Larger, softer handle grips and Y-shaped handlebars will help you to sit taller and take the pressure off the lower back and neck. Make sure your seat is the right height for your hips and knees, and a rear view mirror can also be a good idea to help you see behind you without having to turn your neck.
Good quality bike stores will be more than happy to answer your questions and to get you set up for the best possible riding experience. Make sure you know the rules of the road and get out there!
We would love to hear about you enjoying your bicycle this summer. Comment below and feel free to send pictures to the Arthritis Society.
John Espley
Director Marketing & Communications, Accent Inns
Carrie Gadsby
Manager, Communications
The Arthritis Society, BC & Yukon Division