Bin 4 Burger Lounge coming to Accent Inns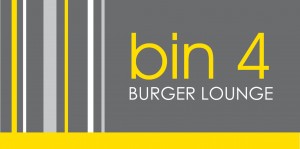 For Immediate release
Bin 4 Burger Lounge has all the right ingredients for Accent Inns: locally owned, strong family values and commitment to outstanding experiences.
June 26 , 2014, Victoria, BC – Now guests who travel to Victoria can not only stay local with Accent Inns, they can eat local as well, with the announcement that Bin 4 Burger Lounge will become the Saanich hotel`s restaurant tenant, opening in 2015.
According to Accent Inn`s President and CEO Mandy Farmer, it was Bin 4 Burger Lounge`s pride on being Victoria`s only locally owned burger lounge specializing in local ingredients, hormone free, natural Certified BC beef and Rossdown Farms free range chicken that attracted her to the restaurant business in the first place.
I have to admit – having Bin 4 Burger Lounge located just below our new head office and beside our hotel is a wonderful indulgence for me, ` says President and CEO Mandy Farmer, My whole family is a fan since they first opened on Yates Street. Their range of gourmet burger ingredients is inspiring, caters to the whole family, and even includes gluten free and vegetarian options. I met the owners; quickly found we shared the same values in how we run our businesses so it was an easy decision to ask them to open a new location as one of our tenants. Now when we point our guests to the best burger lounge in town, we will just have to point next door! `
Bin 4 Burger Lounge is expected to move into the new building which is easily visible from Blanshard Street, by summer 2015 . Accent Inns` newest addition will also include a
brand new fitness area, and new office space for Accent Inns head office, which will move from its current location on Douglas Street. Accent Inns has already begun its upgrades in its Victoria location. As of June 2014 guests at the Accent Inn Victoria are able to enjoy their complimentary breakfast in a brand new custom built breakfast room.
We have been interested in bringing our concept into Saanich, and when Accent Inns approached us it was the right timing. We are excited to build on our downtown and Westshore concept for our Saanich neighbours and Accent Inns guests, `says Sarah Blackmore, co-owner of Bin 4 Burger Lounges. `Our menu also extends beyond gourmet burgers, and when you are on the road traveling you want to eat somewhere you know offers the freshest, locally sourced ingredients.   Our goal will be to make Bin 4 yet another reason to stay with Accent Inns, if you are from out of town and also provide all the right ingredients – ambiance, menu, value, flavours, service – to attract locals as well. `
About Accent Inns
Accent Inns likes to describe themselves as not your typical, stuffy hotel chain. Yes, they have modern, clean rooms, but they will also tell you where to go (in a good way). They will give you the down low on where the locals hang – the hot spots for shopping, dining and hitting the town. Oh yeah, they also like to mention that they are also a pint-sized, boastfully BC hotel chain with five locations; Victoria, Burnaby, Vancouver Airport (Richmond), Kelowna & Kamloops and each of them is a 2013 winner of the TripAdvisor "Certificate of Excellence." Stay local. Stay real.
 -30-
Media Contacts:
Deirdre Campbell, Tartan Group: 250-592-3838, 250-882-9199 (cell)   [email protected]
John Espley, Accent Inns: 250-360-1511, 250-213-9605 (cell) or [email protected]