Canadian Cancer Society Tour de Rock 2015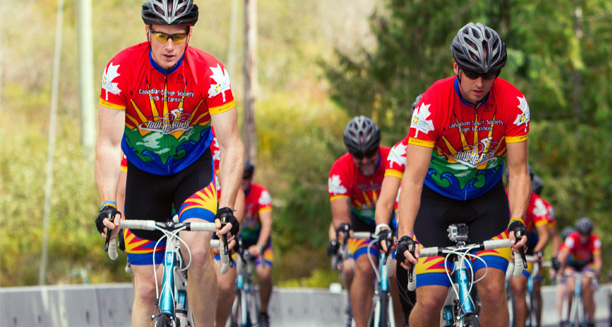 Last year while travelling Vancouver Island my wife and I came across the Cops for Cancer Tour de Rock bike team twice, initially in Ucluelet and then again on the highway south of Parksville.
In Ucluelet they were gathered at the marina preparing to leave for Tofino; the group's energy was palpable – there was much laughter, back slapping and general excitement and you would never have guessed that the previous day they had ridden more than 100 kilometres from Port Alberni. Unfortunately disaster awaited them, on the way to Tofino there was a collision between a couple of the riders and two were hurt, both required medical attention. The Tour de Rock is no ride in the park, it's a gruelling, 1,000 kilometre, two-week trial of endurance.
In 2014 these dedicated officers, along with a media rider and support staff, raised $1,154,776 – no mean feat. Since 1998, when the event first started, over $20 million has been raised for the Canadian Cancer Society. The money is used to fund paediatric cancer research and programs which help children with cancer and their families.
I was pleased therefore to discover that Accent Inns donates rooms to the team when they are in Victoria, and also works with the organization in Vancouver. I know Accent Inns, along with every team member, is proud to support this wonderful cause as part of its commitment to the communities it serves.
This year the riders will set off on September 20th on the first leg of the ride from Port Alice to Port Hardy and Port McNeil, a gruelling 97 kilometres. We wish them clear skies, safe riding, a wonderful sense of camaraderie, a wealth of amazing memories and the knowledge that their selfless determination will continue to positively affect many lives long after the bruises and blisters have disappeared.
Here is the 2015 Routes and Dates
Sunday September 20
Port Alice to Port Hardy and Port McNeill 97 kilometres
Monday September 21
Port McNeill to Woss and Sayward 140 kilometres
Tuesday September 22
Sayward to Campbell River 74 kilometres
Wednesday September 23
Campbell River to Comox Valley 60 kilometres
Thursday September 24
Comox Valley to Union Bay, Qualicum and Parksville 81 kilometres
Friday September 25
Parksville to Port Alberni 51 kilometres
Saturday September 26
Port Alberni to Ucluelet 102 kilometres
Sunday September 27
Tofino to Nanaimo 35 kilometres
Monday September 28
Nanaimo to Ladysmith and Chemainus 48 kilometres
Tuesday September 29
Chemainus to Lake Cowichan and Duncan 81 kilometres
Wednesday September 30
Duncan to Shawnigan Lake, Mill Bay, to Sooke to West Shore 78 kilometres
Thursday October 1
Oak Bay, Victoria and Sidney 40 kilometres
Friday October 2
Esquimalt, Saanich and Victoria Spirit Square Finale 40 kilometres
Mike Wicks
Blue Beetle Creative