10 Business Trip Packing Tips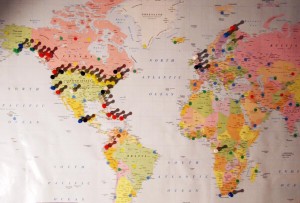 I once did 99 airplane trips over an eighteen-month period. My kids were young and my wife encouraged them to put pins in a world map every day to track where I was every evening. It made them feel just a little closer to me and as a bonus doubled as a geography lesson.
I've always packed my own bags and get a certain degree of satisfaction in maximizing the space I have available while catering for every eventuality.
How you pack depends on whether you are travelling by car, or by airplane. As we all know, these days airlines charge for bags and scrutinize the number and size of your carry-on baggage like never before.
Many people still like to avoid checking in bags and travel with just carry-on luggage. On a business trip this can make a lot of sense as it's a time-saver, especially when arriving at your destination. You'll be quicker through customs if travelling abroad, and ahead of the crowd when trying to grab a taxi. The tips below will help you manage with just the one bag.
However, when I do a road trip I get out my old hard shell suitcases, which are far too heavy these days for air travel. The beauty of these babies is they offer a high degree of protection for laptops, projectors, and the other equipment I travel with when on a business trip. Mine are 23-years old and just as serviceable today as they were when they were new!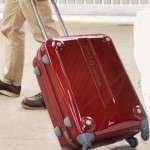 Anyway, here are a 10 tips I picked up along the way. Most are gender neutral or male leaning, as I would never attempt to tell a businesswoman how and what to pack – there lies the road to an avalanche of comments telling me I have no idea what I'm talking about! What I will offer is the following link to a website that cleverly suggests 10 items to pack for the fashion conscious professional woman. http://travelfashiongirl.com/business-trip-packing-list-for-minimalist-fashionistas/
Keep your clothing choices simple. If you try to include multiple colour combinations you'll need to pack more. One trick I've used is to pack only black and white clothes. Doing this means that almost everything matches and can be combined in a multitude of ways. Think: white shirts; black pants, jackets, socks and shoes – both for business and casual wear. Black is always professional for business and cool for casual.
Be wary of shoes, they take up a lot of space. At most, wear one pair to travel and take another (and wear the largest on the journey). I have a pair of black shoes that at a glance look like they're formal wear, but actually have the tread, flexibility, and comfort of a trainer. This means most times I don't even need to pack a second pair.
Pack stuff that's easy to clean and don't be afraid to use the hotel laundry service – it's a good investment which helps you travel light. If like me you use Accent Inns you'll have access to a coin-op laundry, which is a bonus.
Roll all your softer clothes, such as tee-shirts, pyjamas, underwear and the like. It has been proved that rolled items of clothing take up a lot less space. You're looking to make them like tubes that can lay next to each other. You will be amazed how many rolled items you can squeeze into a small bag! If you stay at Accent Inns when you travel on business, you needn't worry about the odd wrinkle as every room has an iron and ironing board, so you'll always look as if your clothes came straight from the cleaners.
Before you leave on your business trip, make a list of all the equipment you need to take with you (e.g. laptop, iPad, iPhone, projector etc.) and list all the leads, cables and recharging devices they require. As you pack check off your list. Nothing's worse than arriving with a dead device and no way to recharge it!
Do the same for all the files, folders and documents you may need while away and check them off as you put them into your briefcase.
Consider uploading all your files to the cloud, so that you have access to your home/work hard drive while on the road. Alternatively arrange remote access to your computer through one of the many services available online. My favourite cloud service is Dropbox and I understand that GoToMyPc provides cost effective remote access. I urge you however to research a service that best meets your needs. One thing I like about Accent Inns is the awesome free, fast and reliable Wi-Fi. Makes accessing my documents a breeze.
Losing stuff, or getting it stolen is a constant worry when on any trip, but when on business trip the distraction caused by losing a credit card, or passport could be disastrous. One way to minimize the impact is to scan all documents into your cell phone – passworded of course – that way you will have all relevant information and means of identity should the worst happen.
If you plan to rent a car invest in a GPS system and take it with you – do NOT rent one from the car rental company. These companies charge around $16 per day – you can purchase your own basic device for as little as $60 new. You do the math!
Briefcase checklist – Extra business cards; mints, gum, or breath freshener; hand sanitizer; custom made name badge (you want to look professional); notebook; pens; USB flash drive; chargers, cables, and leads; samples; relevant files and folders; spare glasses (if you require them); digital recorder (very useful to record thoughts, or meetings); calculator; and travel documentation. Add your own items to the list and use it every time you travel.
Bonus tip – if you're flying out of Vancouver airport book a room at Accent Inns' Richmond location. This is the best deal ever.  They offer eight days free parking if you stay for just one night and sixteen if you stay two nights. That's an unbelievable deal, considering you can pay as much as almost $200 to park for eight days at the airport itself!
Mike Wicks
Blue Beetle Creative