Camosun Chargers Hall of Fame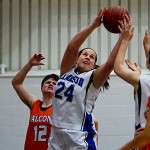 On Friday night (Sept 27) I attended the Camosun Chargers tip-off dinner, auction and first ever Hall of Fame induction Ceremony.  Talk about a special night. As always the Chargers team members (students) were there dressed sharply and ready to help all their "guests" lighten their wallets just a bit. Athletes were stationed at every Silent Auction table offering wonderful encouragement and "coaching" as to how we should place our bids. As we sat down to Dinner the  MC for the evening , Mira from CTV Sports, turned over the mic to Chargers team members from all the represented sports. One of the students commented during his speech that they hope to be leaders in the future. Let me tell you, these student athletes achieve more than most people just in the two to 4 years they attend college. Their athletic ability is second to none but wait, there's more, these "kids" are smart. Really smart. They achieve some incredible academic scores, scores that anyone without the rigorous training schedule of a Chargers team member would be proud to have.  Watching and listening to these students speak like professional presenters had me thinking to myself, "these young men and ladies and leaders now and we are so lucky to have them in our community." Credit must also go to the incredible coaches and the support and administration staff that pull the Chargers program together. A true example of the statement, "anythings possible."
Friday night had an extra special aura about it as the Camosun Chargers Athletic program indicted their first ever Hall of Fame recipients. I've posted a copy of the press release from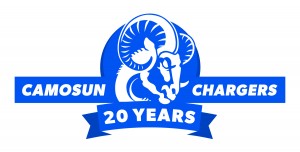 the Chargers below so that you'll have all the details. As I try to think of a way to express my respect and admiration for these people the best I can come up with is; in business we have a mantra that says, if you want to be successful hang out with successful people. Well I don't know how successful I am or will be but just being in the same room as these inductees qualified hands down as "hanging out" with truly talented and successful people. All of us at Accent Inns congratulate the hall of Fame inductees and the Camosun Chargers for 20 years of a very successful program.
courtesy Camosun Chargers:
Chargers induct first ever Hall of Famers
 The Camosun College Chargers paid tribute to four very special individuals last night and raised at the Inaugural Chargers Athletic Scholarship and Hall of Fame Dinner at the Laurel Point Inn. Over the course of the evening, guests raised over $20,000 through live and silent auctions in support of student-athlete scholarships.
"We are so pleased at the turn-out of last night's event and at the generosity of our guests and donors," comments Graham Matthews, Camosun's Coordinator of Athletics and Recreation. "We could not be more proud of the Chargers' accomplishments over the past 20 years and of the achievements of the people connected to the program."
Inductees to the Chargers Hall of Fame included former Camosun President Dr. Liz Ashton, former Chargers Men's Volleyball Head Coach Linda Henderson and alumni members, Greg Wallis (Chargers Men's Basketball) and Martin Reader (Chargers Men's Volleyball).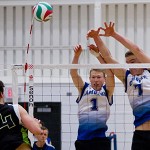 Two-time Olympian Dr. Liz Ashton was inducted in the category of "Builder" for her contributions to the Chargers program including: developing and sponsoring the Camosun Chargers President's Cup; supporting the development of tuition waivers to assist in Chargers' recruiting efforts; providing leadership in the development of the Centre for Sport and Exercise Education and for spearheading the funding and building of the Chargers' home facility, the Pacific Institute of Sport Excellence (PISE).
Former Chargers Men's Volleyball Head Coach Linda Henderson was inducted to the Hall of Fame for her achievements in coaching which included 12 consecutive BC Championship appearances and leading the program to five trips to the CCAA Nationals. Since leaving Victoria in 2008 to take over as the Director of Athletics and Recreation at the Northern Alberta Institute of Technology (NAIT), Henderson's Athletics program has amassed a record-breaking number of National and Conference Championship titles and sits on various boards including Volleyball Canada's High Performance Committee.
Chargers Alumni Greg Wallis and Martin Reader were also inducted at the inaugural event as former athletes of the Chargers program. Now successful entrepreneurs, both Wallis and Reader led their teams to medal winning finishes in the BCCAA playoffs and appearances at the CCAA National Championships. Wallis and Reader each went on to play in the CIS. Wallis played three years for Simon Fraser University (SFU) before returning to Victoria to open his business, Passion Sports, while Reader went on to the University of British Columbia (UBC) for one season prior to playing professional Beach Volleyball and later, representing Canada in the 2012 London Olympics.