BC hotel Chain Invites You To Experience Local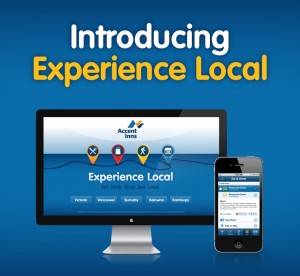 Accent Inns puts local experiences on the map with new interactive website
Aug. 5, 2013, (BC Day) Victoria, BC – Experiencing BC like a local has just become easier thanks to Accent Inns, a small family-owned hotel chain that prides itself on offering more than your standard guest services at each of its five locations.
"We've won the loyalty of many guests simply by making dining and activity suggestions that provide an insider's point of view," says Mandy Farmer, CEO of Accent Inns. "Our new Experience Local website reflects the type of recommendations our staff makes on a daily basis, but all in one place."
Experience Local showcases brunch spots like Kelowna's Marmalade Kat Café, view spots like Victoria's Vista 18, and activities including tubing the Thompson River in Kamloops and the Deer Lake Music Festival in Burnaby – all based on locals' input.
What's special about Experience Local compared to other review or directory sites? Aside from it containing Accent Inns staff suggestions it's all about promoting local in a fun and positive manner. Although visitors to the site can rate a suggestion thumbs up or thumbs down, no negative reviews are allowed. It's intended to positively re-enforce the local communities.
The site also has an interesting mix of suggestions on top of local attractions or restaurants, creating a unique one-stop shop for visitors and hotel guests. "As the site grows with our staffs ideas, customer suggestions and even locals, we expect it will become a fantastic tool for not only our customers but many others planning a great visit to BC, and the fact that we are helping to promote other local businesses, well that's just who we are," says Farmer.
"Developing a site like Experience Local is no small task, so for a small local company like Accent Inns to make this happen is very impressive," says John Espley, project manager for Accent Inns. Of course, Accent Inns staff is still at the ready to provide curated activities to suit travelers individual tastes. Whether it's scenic motorcycle routes in Kamloops, zip-lining adrenaline thrills in Kelowna, or Richmond's best Dim Sum restaurants, front desk employees are eager to offer suggestions.
"The website provides another layer of service," says Farmer. "Ultimately, we're hoping to get guests and locals talking to each other, and to share the love of our guests with neighbouring, like-minded businesses."
And, Accent Inns guests seem the type to write raving reviews – the chain is the winner of the TripAdvisor Award of Excellence, three years running, a distinction Farmer credits with the service-minded, friendly spirit of the BC-based chain.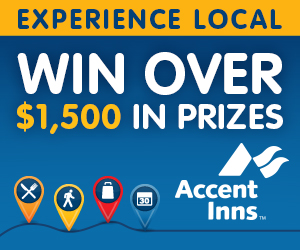 To celebrate the launch of the Experience Local site and the companies British Columbia roots, August 5th, BC Day, Accent Inns are launching an online contest through their Facebook page, where participants are entered to win two nights at each of the five Accents Inns locations throughout the province, allowing for a true BC experience along with a $500 Cdn pre-paid Visa card (spending money) to ensure the winner can experience the local communities. This prize, valued at $1,500 Cdn, is valid until December 2014 and the room nights do not need to be used consecutively
The contest runs from BC Day (Aug. 5) to Aug. 31, 2013; Contest now closed
About Accent Inns
Not your typical, stuffy hotel chain. Yes, we have modern, clean rooms, but we'll also tell you where to go (in a good way). We'll give you the down low on where the locals hang – the hot spots for shopping, dining and hitting the town. Oh yeah, did we mention that we're also a pint-sized, boastfully BC hotel chain with five locations; Victoria, Burnaby, Vancouver Airport (Richmond), Kelowna & Kamloops. Stay local. Stay real. For more information, visit www.accentinns.com.
Media Contacts:
John Espley, Accent Inns: 250-360-1511 or [email protected]