Accent Inns Offers Accommodation For YVR Travellers Affected By Travel Ban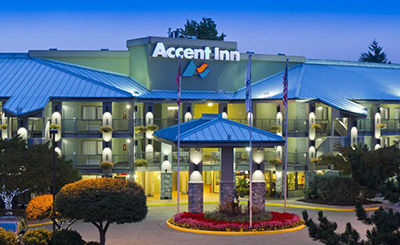 January 31, 2017 – Accent Inns is offering complimentary accommodation at its Vancouver Airport Hotel location to Vancouver International Airport (YVR) travellers from the Muslim-majority countries affected by U.S. President Trump's travel ban.
"We at Accent Inns are saddened by any sort of discrimination," says Mandy Farmer, CEO of Accent Inns. "We want to take a stand for what's right and help anyone who might be affected in our community. Accent Inns welcomes diversity always."
Starting today and for the 90 days that the travel ban is in place, Accent Inns will offer complimentary accommodation for up to three nights to travellers that have been stranded due to the travel ban. Upon check-in travellers need to show the YVR airline ticket they were not able to use and a passport from Iraq, Iran, Libya, Somalia, Sudan, Syria and Yemen.
Accent Inn's Vancouver Airport Hotel has 24 hour free shuttle service to the Vancouver International Airport. Any stranded travellers can use the courtesy phone that is located in the baggage area of YVR to contact the Accent Inns Vancouver Airport Hotel's front desk for assistance.
For Inquiries Contact  Trina Notman,  [email protected].