5 Ways to Have an Outstanding Day at Deer Lake Park
Our Burnaby hotel is so close to Vancouver's more popular attractions, hidden gems in our backyard are often overlooked.  If you've got a little extra time after you've ticked off your Vancouver wishlist, or if you want to spend a day off the beaten track, we highly recommend Burnaby's Deer Lake Park. The park is just a ten minute drive from our Accent Inns Burnaby hotel, and the variety of activities in the 207-hectare park is astounding. We've broken down our top 5 favourite things to do at Deer Lake Park:
1.  Go back in time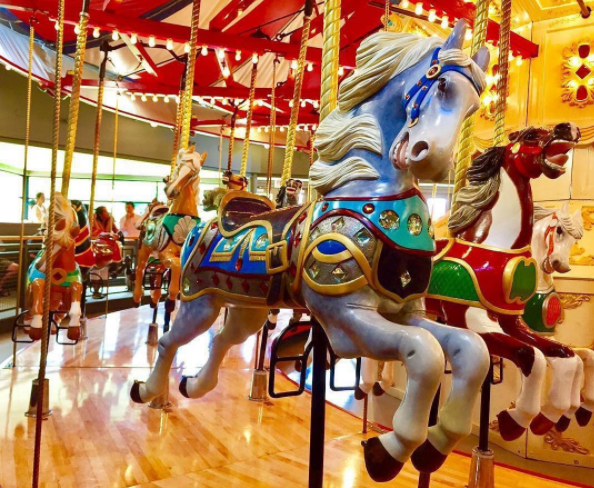 Photo from Burnaby Village Museum Instagram
No DeLorean required for time travel at Burnaby Village Museum! This interactive blast from the past is a 10-acre replica 1920s village that you can explore at your own pace. The "locals" are period-costumed staff who are more than happy to show you the blacksmith's forge or point you in the direction of the cinema or General Store.  Check out the fully-restored interurban tram or ride the iconic Parker Carousel. Best of all, admission to the museum is free!
2. Hit the water
Look, they don't call it Deer LAKE Park for nothing! Deer Lake is a gorgeous body of water, and the park's peaceful environment makes it the perfect location for a calm paddle. Didn't pack your kayak? Don't stress. Deer Lake Boat Rentals, located on the south-eastern side of the lake, has a wide variety kayaks, rowboats, peddle boats and canoes that you can rent by the hour.
3. Rock out
The Festival Lawn at Deer Lake Park is a hot-spot for top acts, especially during the busy summer months. This summer, you can catch everyone from Jack Johnson, the Vancouver Symphony Orchestra or the Burnaby Blues and Roots Festival. Grooving to world-class musical acts with Deer Lake as backdrop is a great way to spend a summer night. You can check out the Festival Lawn at Deer Lake Park website for more details as upcoming shows get added!
4. Eat like a king (or queen!)
Hart House Restaurant, located in the middle of the park, is a dining experience that you won't soon forget. This place does not rest on the stunning parkside views to impress their guests. The mouth-watering menu is raved about locally, and the service is second to none.  And, did we mention the views? There's a reason this is a favourite wedding destination!
5. Take a hike
Want to just spend the day getting down with nature? That's cool. Deer Lake Park has numerous great trails, including a lakefront boardwalk and a more adventurous woodland route. Grab a trail map from the City of Burnaby site, pack a delicious picnic and get exploring! Between the local wildlife, gorgeous landscape and the floral wonderland of Century Gardens, you may even get a good shot for your Insta.