Accent Inns loves bikes
(so much so that they bought you one to use)! All Accent Inns properties to offer free bike rentals for guests this summer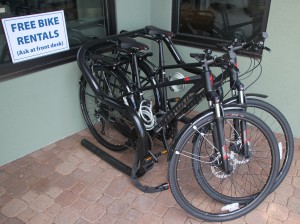 May 20, 2015, Victoria, BC – Building upon their popular Bike Lover program, Accent Inns is showing their affection for all manner – and level – of cyclist by offering free bike rentals for guests at all properties starting this June.
Having welcomed thousands of cyclists to their properties throughout BC with open arms for years, Accent Inns created their Bike Lover program in May 2011 to accommodate bike-minded visitors. Each Accent Inns property offers 'Bike Lover' rooms for those who arrive with their own bike, which are conveniently located on the ground floor of each property. While they wouldn't encourage sleeping with your bike, these guest rooms allow in-room storage for guests' bikes. In addition, Accent Inns offers guests a bike wash station complete with a professional-grade bike stand and an assortment of bicycle specific pro mechanic tools, pump, hose and plenty of rags, and laundry rooms in case guests' bike clothes need to be washed as well.
Starting in June 2015, guests will be able to ride in style on an Accent Inns bike provided by Russ Hays Bicycle Shop, at any of their locations in Victoria, Richmond (Vancouver Airport), Burnaby, Kelowna and Kamloops. Each property will have between two and four bikes, helmets and bike locks available on a first-come, first-serve basis, with front desk staff offering maps and route suggestions for guests to get them on their way. The craze of hotels offering free bike rentals has taken off in cities around North America, with larger hotel chains offering guests access to bikes in major centres like Chicago, New York, San Francisco, and Toronto.
"We've seen an increase in cyclists booking at our properties and a renewed interest in making cycling part of an active lifestyle, which is something we love about our locations – they make cycling accessible," says Mandy Farmer, president of Accent Inns. "Each of our properties are well located within the city to allow for a quick ride to nearby attractions and activities, and our staff are happy to provide suggestions for guests who bring their own bikes, or use one of ours."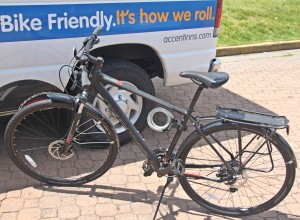 Accent Inns is also a strong supporter of cycling within their communities, supporting multiple cycle events throughout the year and throughout the province; they even support their own cycling team. Accent Inns has sponsored, and participated in, Bike to Work Week in Victoria, Vancouver, and Kelowna; the Tour de Victoria; ALS Cycle for Hope; the Kamloops Indoor GranFondo in support of the MS Society; the Ride to Conquer Cancer, and Vancouver Island Cops For Cancer Tour De Rock. Accent Inns also partnered with MEC to support their Victoria Bike Fest in May 2015.
In 2012, Accent Inns partnered with local bike shop Russ Hay's to found and fund the Accent Inns Russ Hay's Cycling Team, which has competed in more than 150 races in the past three years and has both provincial and national rider wins. The team was founded by veteran bicycle racers Jon Watkin and David Strasser in partnership with Mike and Marty Clermont, owners of Russ Hay's the Bicycle Shop. Learn more at http://www.russhaysracing.com/.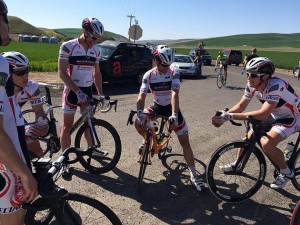 For more information on the Bike Lover program and the new bike rentals available at Accent Inns, visit www.AccentInns.com.
About Accent Inns
Accent Inns likes to describe themselves as not your typical, stuffy hotel chain. Yes, they have modern, clean rooms, but they will also tell you where to go (in a good way). They will give you the down low on where the locals hang – the hot spots for shopping, dining and hitting the town. Oh yeah, they also like to mention that they are also a pint-sized, boastfully BC hotel chain with five locations; Victoria, Burnaby, Vancouver Airport (Richmond), Kelowna & Kamloops and each of them is a winner of the TripAdvisor "Certificate of Excellence." Stay local. Stay real.
Media contacts:
Brian Cant, Tartan Group: 250-592-3838, 250-888-8729 (cell) or [email protected]
Kate Rogers, Tartan Group: 604-880-1494 or [email protected]
John Espley, Accent Inns: 250-360-1511, 250-213-9605 (cell) or [email protected]