Wish You Were Here!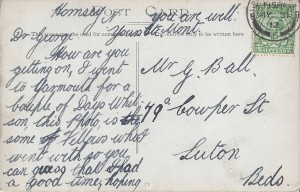 When I was young, no seaside holiday in Britain was complete without a trip to a store selling a wonderful array of colourful postcards with scenes of beaches, parks, long piers and sailboats. Greetings from Bognor Regis, or Southend-on-Sea were hastily purchased in the first few days of our holiday and then we'd spend the afternoon writing short messages to our friends and family, "Wish you were here. Weather's good, water's cold, got Mum to ride a donkey – so funny. Off to buy ice cream now!" They were like long Tweets really.
Later in life I collected old postcards and still have a small number, including my favourite, which you can see above. Its postmarked 1912 and reads, "How are you getting on? I went to Yarmouth for a couple of days Whitson, this photo is some fellows I went with so you can guess I had a good time, hope you are well etc. Mont." I wonder what devilment they got up too? They certainly look a dubious group – LOL.
The first postcards date back to 1871; they didn't have images and were pre-stamped. The type we are familiar with today with the divided back for the address and the message, leaving the front for an image, appeared here in 1904. According to the British press, they are making a comeback – I certainly hope so. It was fun to receive them and stick them on the fridge, even if they did make me envious of friends enjoying fun times while I slaved away in the office.
Today we have our cell phones and can text every day, send images and video, and even Skype – it's like we haven't left home. But is more information better? Perhaps Tweets are the closest thing to the postcards of yesteryear?
I'd like to throw out a challenge to all fans of Accent Inns – next time you find yourself in an Accent Inns hotel, Tweet about what you're up to – tell us in 140 characters or less what you're up to and whether you're having fun. Perhaps recommend an attraction, or a restaurant, or simple make us jealous! Use: #AccentWishYouWereHere and, if your great grandmother's riding a bike, attach a photo!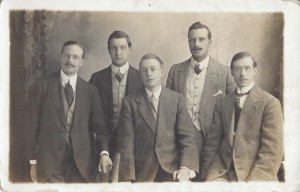 Mike Wicks
Douglas, YAM and Salt Magazines