Accent Inns Cup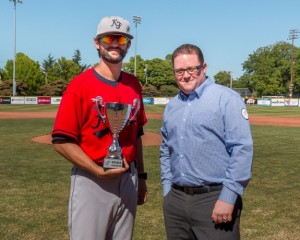 Story and Photos by Christian J. Stewart (ISN)
June 7, 2015, Victoria, BC (ISN) – The Kelowna Falcons pounded out 17 hits, including four home runs, to power their way to a 8-3 victory over the Victoria HarbourCats in West Coast League (WCL) action Sunday afternoon at Sports Traders Diamond at Royal Athletic Park in Victoria.
With the win, the Falcons claim the inaugural Accent Inns Cup which is awarded to the team that wins the season series between the two British Columbia based WCL teams. The Falcons lost to Victoria in the 'Cats home opener Friday (9-2), but came away with wins Saturday (5-2) and today to claim the trophy.
Chris Campbell of Accent Inns (right), presents the Accent Inns Cup to Kelowna Falcons head coach Billy Clontz after the Falcons 8-3 win over the HarbourCats on Sunday afternoon.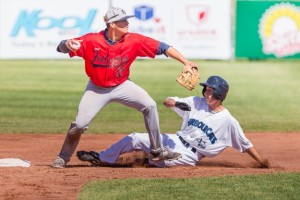 "to read the whole story go to…" http://www.independentsportsnews.com/vancouver-island/falcons-power-their-way-to-accent-inns-cup-win-over-h-cats