Westcoast Motorcycle Ride to Live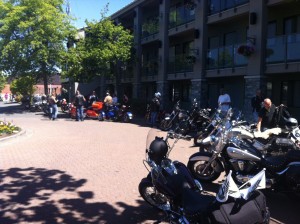 I was at an Accent Inns hotel recently and saw some pretty skookum motorcycles parked outside; a Harley, a BMW and a Honda Gold Wing; it took me back more than 45-years to when I owned an AJS 250cc – a beast of a bike.
Now I'm not a big guy and when I was a teenager I only weighed about 125lbs dripping wet – the AJS was heavy, so heavy it took every ounce of strength I had to get it onto its stand. In fact I remember once waiting at traffic lights losing my balance and dropping it; it took three passers-by to help me get it upright and me back on it. But man, when I was on the road at full throttle, listening to the roar that was unique to the AJS (and probably an exhaust pipe with a few holes punched into it) I was in heaven. Of course, my AJS wasn't without its quirks and occasionally the kickstart would kick back and almost break my ankle – ah the good old days, foolish, but good.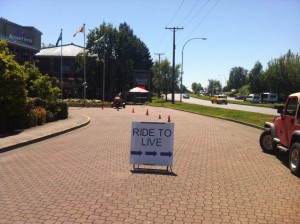 Accent Inns have always been motorcycle friendly and they're a proud sponsor of the Westcoast Ride to Live Vancouver Island and the Fraser Valley, an annual fundraising event with two motorcycle poker runs and a Classic Vehicle Show and Shine to raise funds for Prostate Cancer Research, Education-Awareness & Support for BC.
This year's Westcoast Ride to Live was on June 7th and was a huge success raising $175,000 ($24,000 up from 2014) with over 500 riders (up from 340 in 2014).
Vancouver Island has one of the best prostate cancer research facilities in North America and dollars raised go to research grants for post and pre-doctoral students working in BC at either, BC Cancer Agency, The Vancouver Island Prostate Center, the University of British Columbia, Simon Fraser University, the University of Victoria or the University of Northern BC.
It's estimated over 1 million Canadian Men have prostate cancer, but staggeringly only 20 per cent have been diagnosed. Prostate cancer is the second leading cause of cancer death in Canadian men, but what's surprising is that approximately nine out of ten men would survive if only it was treated early enough.
Raising awareness of this awful, and underfunded, disease is important and the Ride to Live successfully brings it to our attention every year and raises much needed funds for research and awareness.
It's been a long time since I rode a motorcycle, but all this has got me thinking – maybe a trip to my local dealership might be in order.
For more information: http://www.ridetolive.ca/ and www.prostatecancerbc.ca/home/
Mike Wicks
Douglas, YAM and Salt Magazines