5 Ways to Pack Like a Flight Attendant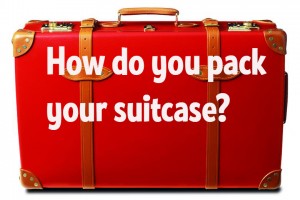 Accent Inns packs a huge amount into their rooms, how can you pack more into your suitcase?
On the face of it packing a suitcase seems a simple affair, but where most people might be able to fit 15-20 items in a carry-on bag, I recently heard about a flight attendant who could fit 40 and live out of that one bag for ten-days!
So what are the secrets of professional packers? Here are some of the ways pros manage to magically pack more than others, while still keeping their clothes wrinkle free.
1. Pack heavier items at the bottom of your suitcase and gradually layer items so that the lightest are on top and there is less movement. Using this technique protects your lighter, more delicate items by providing a solid foundation for them to rest on. The one exception to the lighter nearer the top rule is that your formal wear such as dress pants, jackets, skirts should be packed last.
2. Place plastic sheeting between each layer – the plastic bags that you get covering your clothes when they come back from the dry cleaners is perfect for this. Why do this? Two reasons, first it keeps your clothes mobile in your bag; this prevents them remaining in one place too long and therefore creasing. Second if you need to retrieve something before arriving at your Accent Inns hotel room, you'll be able to locate it more easily by lifting the sides of each bag.
3. Among those bottom items include your shoes; don't forget to stuff them with your socks, underwear and other small items – remember we don't want to lose any space. Oh, and put your shoes into plastic bags to protect your clothes from any dirt.
4. Separate all your softer clothes – those that don't wrinkle such as tee-shirts, pajamas and the like and tightly roll them up. It has been proved that rolled items of clothing take up a lot less space. You're looking to make them like tubes that can lay next to each other. You will be amazed how many rolled items you can squeeze into a suitcase!
5. Fold stiffer items such as jackets, dress shirts, blouses, and anything that is likely to crease. These are the clothes that you will be hanging up as soon as you get to your Accent Inns room. Use belts to surround all your clothes and keep things contained.
In future posts we'll look at: what to pack; how much to pack; what to do with dirty laundry; packing sundry items such as laptops, jewelry and breakables; the pros and cons of different types of bags; how to maximize your carry-on; and a bunch of other clever tips such as freezing your jeans!
Accent Inns welcomes Mike Wicks, a well-known feature writer for Douglas, YAM and Salt magazines, as a guest blogger with the first in a series of posts on the art and science of packing your suitcase.